Sharp gets a new look and expands further into mobile
The men's magazine has launched a new tablet app and refreshed its web and print products to offer consistency to advertisers.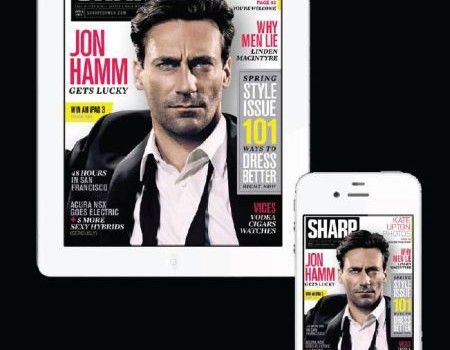 At times, getting premium and luxury advertisers to dip their toes into digital and mobile media can be tough, John McGouran, publisher and co-founder, Sharp magazine tells MiC. "They're concerned about the environment their brand is in. And this is why they're big supporters of magazines, because they can rely on a consistent environment that aligns with their brand values," he says.
That's why the men's lifestyle publication had to work extra hard to ensure that its brand new iPad app and redesigned website were consistent with the aesthetics of its print environment, he says.
The iPad app launched yesterday, along with a new Sharp logo, a redesigned web offering with increased emphasis on video, photos and social media as well as a revamped print version that comes with upgraded paper stock.
"The challenge as a magazine is to create that environment, that aesthetic and consistency across all the platforms. So the advertisers will then be comfortable enough to do a multiplatform campaign delivered on a consistent basis for them," he says, noting that Sharp worked to give its new and revamped digital offerings consistent design.
Advertisers in the April issue of Sharp as well as the spring/summer issue of Sharp: The Book for Men will mirror those on the iPad and website, he adds. And these include the likes of Audi, Porsche, Tommy Hilfiger, Hugo Boss and Tag Heuer.
"It's still early days for the iPad, there is a small audience," he says. "But we're trying to get the right audience, which is more important to a premium and luxury advertiser. They're not looking for numbers, they're not mass advertisers. They're looking for the right target group and the right environment."
The Contempo Media-published magazine is targeted toward young, professional urban males aged 25-to-54 and is published six times each year, with its Sharp: The Book for Men issue published twice every year in English and French.