Metro revamps and rolls out
The daily news publication has launched new mobile and desktop offerings to gear up for its biggest ad campaign ever.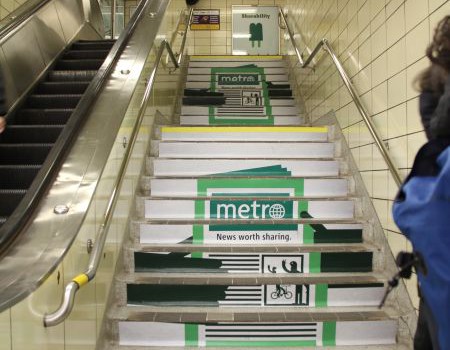 Metro recently spruced up its mobile and desktop offerings in preparation for the launch of a $5 million advertising campaign.
Jodi Brown, VP, interactive and marketing, Metro English Canada tells MiC that this is the publication's biggest national advertising campaign ever and that Metro revamped its website, smartphone and tablet apps in order to ensure that they were on top of their game when the campaign rolled out in Canadian cities.
"From a digital perspective, mobile is becoming more and more important to us as people consume their news in different ways while on the go," she says, adding that the publication has cleaned up the site and put a bigger focus on original local news in each of the markets it publishes in.
And on the website, there is a larger, more concentrated big box ad unit that is incorporated into the Metro "mosaic" cover screen, allowing advertisers to create custom, integrated campaigns on the site, she adds.
The campaign (with media done in-house and creative by Rethink) launched April 2, in conjunction with the new print, online and mobile editions in Saskatoon and Regina, and digital-only publications in Hamilton, Kitchener, Windsor and Victoria. The expansion has now given the publication a presence in 15 different Canadian markets.
Cineplex cinema ads, radio spots and online and mobile banner ads have been placed in all Metro English markets. With regards to mobile, Metro has a banner ad on the Weather Network apps that mimics the "swipe to unlock" feature found on iPhone and iPad products and if the user clicks through, they are taken directly to the Metro app in the App Store to "unlock commuter boredom."
There is also an OOH execution where Metro mini-boxes have been placed next to full-size Metro boxes, stating that the publication is "also available in pocket-sized," referencing its revamped mobile offerings. A QR code on the box directs the viewer to the App Store to download the Metro app.
Toronto will also see OOH ads in the form of an ad takeover of Bloor station. Interior transit and transit shelter ads will also run in Toronto, as well as in Calgary, Vancouver, Regina and Saskatoon.