MiC's Global Tour: Bacon-wrapped websites and pizza-ordering magnets
Tim Beach from Cossette and Meri Ward from MPG give their thoughts on food and drink campaigns from brands in the US, UK and Dubai.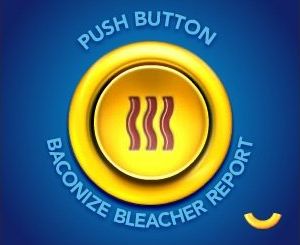 For this week's Global Tour, MiC examined a series of executions in the food & drink category, from websites dribbled with bacon in the US to technologies that facilitate effortless pizza ordering in Dubai and troubleshooting the process of pouring a pint in the UK.
We picked the brains of Tim Beach, group media manager at Cossette, and Meri Ward, media account director at MPG, and asked them to rate the campaigns and comment on whether or not they were effectively constructed and executed.
US: Kraft literally bacon-wraps a website
Kraft recently partnered with BleacherReport.com to line the entire layout of the sports site with strips of greasy, crispy bacon to introduce its new Sharp Cheddar and Bacon mac and cheese meal. Visitors could see the entire site being "baconized" right in front of their eyes by clicking on a button displayed on the page. A behind-the-scenes feature of the site was also created to show the steps it took to lay out 1,000 slices of freshly cooked bacon against a blueprint of the website.
Beach: This eye-catching tactic sure takes homepage takeover to a new level.  It was creatively done very well, the depth aspect made it look great and I'm sure the target group thought it was pretty cool. It's a fun idea but the bacon wrap is user-initiated therefore it's likely very few people actually saw the experience. Average global CTRs for banner ads are 0.08%. Bacon lovers would unquestionably love it. The question is – how many of them saw it?
Ward: I like this concept and think the idea is clever, not so sure about the execution. They have gone away from the usual 'foodie' sites using a sports angle, I imagine to target men? Smart. I do feel that the bacon images you see on the website is an example of something cannot be improved by bacon. It does not look appetizing or make me want to run out to the local store and buy some bacon. I also think the brand gets a little lost [in the site].
Click here to read the international story.
Dubai: Red Tomato Pizza eliminates a few steps in its ordering process
For the lethargic consumer (who sometimes can't be bothered to open the fridge, let alone cook a meal) a new and undemanding pizza-ordering device awaits. Red Tomato Pizza, a restaurant franchise in Dubai, has created a small-yet-powerful magnet that allows famished customers to order their favourite meal from the restaurant with the press of a button. A text is then sent to the person's smartphone saying that the order has been placed (the magnet uses the phone's Bluetooth technology to transmit the order) with the restaurant delivering the meal soon after.
Beach: I love this idea.  Advanced technology aside, it is very simple yet effective and different. I have always been a believer in getting your brand into the house and in this case the kitchen. It serves well for constant top-of-mind awareness. It's a little gimmicky, but really we are talking pizza here and the target will most likely like it and use it. I also think the additional elements like the video gives it legs. This idea has transformed Red Tomato's giveaway to also serve as a way to potentially increase their conversion rate immediately.  This is a great example of an ad agency looking at all areas of opportunity for a big idea.  In this case a simple common giveaway with a big twist.
Ward: Love, love, love this idea. With the press of one button your order is placed. Smart, easy. This is innovative and I like that they are deeming it as a VIP Fridge Magnet – why not make your best customers know you recognize them as such? I think this would have strong social media power as those who have the opportunity to use it would surely speak about it and likely make their friends want to actually press the button to see if it works! Anything to make a decision easier for consumers when it comes to dinner selection is somewhat of a block to the competition. Nice.
Click here to read the international story.
UK: Bulmers gives advice on pouring etiquette
Instead of telling its customers how best to pour its cider, Bulmers decided to virtually show them. The alcohol brand launched an augmented reality app that brought print material such drip mats, posters and window vinyls (placed in 10,000 pubs across the UK) to life by showing those who downloaded the app via a QR code how to properly pour a pint of its cider.
Beach: Always appreciate the ability to generate interaction with brands, especially at the point of sale.  Not sure a "how to pour" demonstration was the way to go. It doesn't seem to tie into a big idea or insight. AR is certainly cool technology. However it is entirely dependent on people initiating the experience themselves.  If there is not a great incentive like a deal or game, etc. you cannot expect big numbers.  Few people go through the effort of opening and using an app (or downloading a QR reader if they don't already have it) to get advertiser messages without incentive.  The technology is very promising but the execution is still lacking at this point.
Ward: I don't really see the benefit to consumers who download this app – how to pour the [cider] perfectly? What do they really "get" in downloading this app? I would say that Guinness owns this space as it ties in with the core of the beer, not sure this will be well received. It seems like a lot of work for not much payback.
Click here to read the international story.