Spotted! Fido hits the road with some pups
The telco is taking its community investment partners on an interactive tour to 35 Canadian cities, starting with a stop in Toronto this morning.
Fido unleashed a puppy haven in Toronto's Yonge-Dundas Square this morning with plans to spread its pooch love to another 34 Canadian cities and towns over the next eight months.
At each stop of the "FidoCARES Tour," the brand will set up shop with an interactive 46-foot pet-friendly trailer that will provide visitors with games, prizes, photo booths, dog obstacle courses and mobile offers to show Fido's commitment to its customers, dogs and the environment.
An invitational print ad, planned by OMD and created by Bos, will be placed in community newspapers in each market just before their arrival in order to create buzz for the events, Angie Camara, program marketing manager, Fido, tells MiC.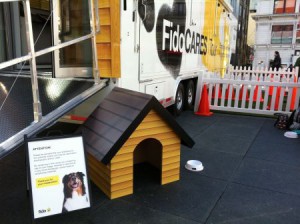 "So [for example], when we're in Toronto, we're promoting in Metro and 24 Hours," she says. "And when we go to a location like Hamilton, we'll be going into the Hamilton Spectator. We wanted to be really granular with the ad buy because it's really about going into the community."
The tour is also meant to place a spotlight on the telco's community investment partners (Evergreen, Lions Foundation of Canada Dog Guides, St. John Ambulance Therapy Dog Program and the Canadian Federation of Humane Societies) with touch screens in the trailer providing information on what each program does, adds Camara.
"Our strategy is to enrich Canadians lives through dogs and our environment and we feel that the partners we have chosen really speak to that strategy," she says.