Sport Chek's digital switch
The retailer's CMO talks to MiC about how its latest campaign is the start of a new era of advertising at the company.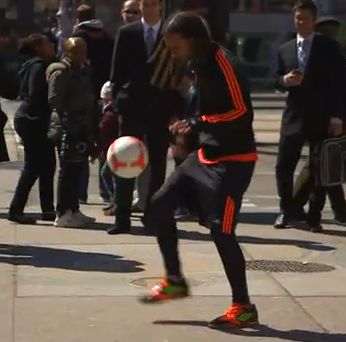 The launch of an online video from Canadian Tire Corp.'s Sport Chek this week marks a change in the way the company targets its demographic, moving from traditional platforms like print and TV, to online, Duncan Fulton, CMO, FGL Sports, tells MiC.
"We have looked to do a lot of non-traditional things, because most traditional advertising isn't typically that inspiring," he says. "We are trying a number of things, mostly through digital because 80% of our customer base is under the age of 45. By and large they are consuming media digitally and living digitally."
Fulton says the goal of the online video, which features creative from Sid Lee, and media from Touché!PHD, is to reach the brand's target demo of consumers aged 15 to 45 in a more cost-effective and creative way than its traditional TV buy has in the past.
The video features some of Canada's best freestyle soccer players with an impromptu soccer session on the street in downtown Toronto. It ends with "Are you ready to kick off spring?"
"Rather than do a 'please come shop with us this spring' TV ad we wanted to do something that makes people laugh, so they have a good time with Sport Chek while they think of us," he says. "Assuming the metrics come back positively, I think it is a great alternative to TV."
The online video was launched on the company's website this week and will be promoted with 15-second teaser videos through a digital buy on YouTube, Yahoo! and Facebook starting next week, says Fulton. All teaser ads will push users to the 90-second video.
Future digital plans for the brand include the soon-to-be-launched social flyer, which will allow consumers to opt-in for certain products or deals on Sport Chek's Facebook app and only be sent deals that match those choices, rather than sending out the same products to every consumer like a paper flyer, says Fulton.
He says the tipping point for the brand going digital with its advertising came when Canadian Tire Corp. was doing research with Sklar Wilton + Associates into Sport Chek's demographic before Canadian Tire purchased Sport Chek's then-parent company Forzani Group Limited last year and found its target consumer was spending most of its media time online.
"What came through loud and clear is that everyone is online," he says. "If people are watching TV they are often watching with a laptop open in front of them."
Fulton says the brand will be expanding this digital strategy throughout the year, with fall and winter holiday ads incorporating digital into its TV spots through smart TV technology.