TV Day: Measuring TV's social pulse
Robin Hassan from Starcom and Matt Di Paola from MediaCom Canada weigh in on Bluefin Labs, an analytics company that tracks the impact of TV ads in real time.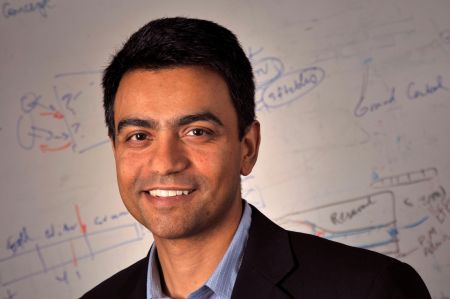 Yesterday's TV Day, organized by the Television Bureau of Canada, was based around the theme of "Social media starts here," so it is only fitting that the day kicked off with a talk from Deb Roy (pictured), co-founder, chairman and CEO, Bluefin Labs, a social TV analytics company that measures comments around TV shows and the ads within them in real-time.
The company is not yet operating in Canada, but Roy notes it does work with 40 networks in the US, providing data which he says can change the way TV is bought and sold.
Bluefin Labs compiles all social media commentary around a TV show into what it calls its TV Genome, which can measure things including sentiment around a show, who is saying it, how many Twitter followers they have, what brands they are talking about and what other shows they watch.
Roy used TV's biggest yearly event, the Super Bowl, as an example of how the analytics work. He said during the game there were a total of 13 million Twitter comments, with 1.2 million of them being about the ads. The commercial that got the most buzz was H&M's David Beckham Bodywear commercial (more comments on the ad were from women than men) with 114,000 comments, second was Chrysler's "Halftime in America" ad with 112,000 tweets and third was M&M's "Sexy and I know it" ad with 103,000.
However, Roy noted Chrysler actually got more potential earned impressions, totalling around 100 million, because it reached out to Twitter users with high follower counts who then tweeted about it.
So how would Bluefin Labs social TV analytics play out in Canada? MiC asked Matt Di Paola, chief strategy and innovation officer, MediaCom Canada, and Robin Hassan, VP, digital, social and mobile COE lead, Starcom, to weigh in.
Matt Di Paola: Most agencies and brands still view social media as "free" media or "free" distribution for their marketing content, which is why they fail. They don't listen to what a certain segment of their consumers want from them or how they want to engage with them, and when they don't get enough "likes" or "followers" for their marketing messages, they abandon social platforms for their lack of efficient reach.
The more evolved brands have engaged in social media in a conversational way with their consumers, and have integrated social platforms into their marketing, customer service, operations and R&D. The brands listen, they react to consumer feedback and input, and they make the consumers feel heard. This allows consumers to build an authentic relationship with the brand, which leads to the development of a true partnership with consumers and brands.
Now, enter Bluefin Labs. They treat social platforms as a place to aggregate and identify unique consumer insights, centred around social TV and the conversations happening around TV content. What's interesting is that you get a better understanding of audiences of content – TV shows in this case. You get a sense of how engaged they are with related content beyond just the actual programming (i.e. if they visit sites related to the TV shows, so you can gauge their level of interest in the show). And most importantly, you get a sense of what other content they are interested in that isn't related to the show, including brand-related content and other video-based/TV programming.
So, in a world where content is becoming more important than the platform or channel it is being delivered on, media planners can now start to buy audiences of certain groupings of shows across multiple platforms and networks, that may not have been obvious to group together. For example, Diet Coke can start to buy content programming that may not be expensive first-run content and may also correlate with people who are advocates of the brand. Then, you start to layer in the second-screen strategy to be on sites and apps that relate to some of those other key interests.
The beauty of this is the potential depth of the insights it will provide about audiences. While it's only TV viewing behaviour right now, the ability to start gathering other insights around habits and interests will allow us to get smarter, reduce waste in targeting and ensure we are more relevant with media placement vs. today's "spray and pray" model of buying mass reach. We know the advertising world is moving away from a platform-specific model of advertising as it continues to get fragmented. But as human beings, we will always enjoy good stories and good content. And this is one of the first tools that aggregates insights around the content, rather than the platform it is being delivered on.
Robin Hassan: This kind of solution would enable us to offer stronger real-time monitoring of social media conversations. For that reason, in the US, SMG was the first agency to adopt the full Bluefin Labs solution and worked with Bluefin Labs on some of the Super Bowl results we saw today. The Bluefin Labs analytics platform has been integrated with the SMG proprietary systems that we use to analyze media and make planning decisions every day.
The big pay-off is in having a more empirical understanding of the cause-and-effect relationship between paid and earned media for client brands in Canada as it would allow us to plan more proactively using social media as part of the eco system.
In addition, there is something incredibly powerful about a platform that helps find placements on TV where brand receptivity and engagement is highest, allowing our clients to react in real time to consumer feedback vs. waiting for weeks/months until sales data comes back.
There are a couple of other solution providers who offer a variation of these types of services in Canada and we have been talking to them too. It's really exciting, but at this point we feel Bluefin Labs' solution is particularly strong. It would be really great to see a Canadian product come through soon.