Panasonic raises the bar in Canada
The brand will use the "Raise the Bar" product tour as a platform for its 2012 London Summer Olympics sponsorship.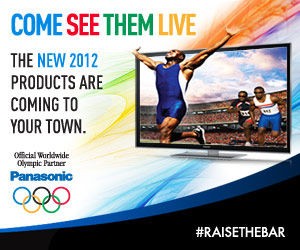 Panasonic will soon be bringing its "Raise the Bar" experiential tour to Canada after having run in the US for the past five years, Denise Charlesworth, manager, advertising and public relations, Panasonic Canada, tells MiC.
"We're trying to create more of an integrated brand identity for Panasonic in North America so that we have better continuity of messaging and we can become a stronger brand force using all of our resources in North America," she says. "Our product line is the same and the tour was taking place, so it just made sense for [Canada] to be a part of it."
The seven-week tour, which will make stops in major cities across North America, will include a Vancouver visit at the Metropolis at Metrotown mall (April 25 to 28) as well as at Square One Mall in Mississauga, ON. (May 9 to 12). Panasonic's tour trailer will be filled with its 2012 line-up of home entertainment, digital imaging, home appliances and personal care products for consumers to try out.
"We are trying to go where we know our customers are [in shopping malls], she says. "I think it's just giving people them the opportunity to engage with the entire product line [and] it's a way to touch the consumers in a way that we might not be able to otherwise do."
Not only is this the first time that Panasonic is stopping north of the border, but it will also include the brand's first major activation for its sponsorship of the 2012 London Summer Olympics.
Olympic fans in Mississauga will be able to meet Canadian Olympic athletes just before they head out to participate in the London games, says Charlesworth, adding that no other city on the North American tour will have athletes on-site.
To promote the tour, radio spots placed by Vizeum (with creative done in-house) will air on Chum FM in Toronto as well as on The Beat in Vancouver, she adds. In addition, banner ads will be placed on the Thestar.com.