Subway apartments and travelling libraries: MiC's Global Tour
Joe Donaldson at Pattison talks to MiC about this week's brand executions in commuter stations across the world.
Marketers can appreciate the value of vying for the attention of thousands of commuters (with little to do but kill time as they wait for their ride to arrive) in the waiting areas of subway and railway stations. For this week's Global Tour, MiC decided to showcase brands that have taken a step outside the norm with mobile, experiential, print and social media campaigns within commuter stations.
We asked Joe Donaldson, VP, marketing, Pattison, to take a gander at our list and weigh in on the effectiveness and efficiency of each one. You can read his verdicts below.
Spain: Catalan Government Railways pulls commuters in with a good book (pictured)
Wanting to help Spain with its National Reading Plan, the Catalan Government Railways came up with a solution that looked to turn commuters into bookworms. The railway doubled up with Random House to provide a selection of popular books as in-rail entertainment for its users. They did this with QR codes and images of 40 different books taped to the interior of carriages and invited commuters to download a free first chapter of whichever they pleased.
Click here to read the international story.
Donaldson: I really like this. When you have subways that, first of all, are able to use wireless underground, doing this really allows people on the train to engage with items that they can use while [commuting]. Having these books, being able to use these QR codes, it allows them to purchase – I will assume this links through to a place where you can purchase the product and not just give them the highlights of the book – while they're in the environment that they would use the product. As a consumer, anything that you can put in my path and make it easy is great.
The only issue with QR codes is that you have to make sure you scan it right. If the subway is busy it can cause you some grief trying to scan that QR code. It works really well when you're sitting on an empty train, but on a busy train, it could be a little more difficult to do. But, it's brilliant because it's all about the consumers and being in their path, so that works really well. Overall, I like the execution.
France: Ikea goes "Big Brother" in a Parisian subway station
Ikea knows that it has the goods to pull off living comfortably in a small and confined apartment. So why not flaunt it? The low-cost home furnishings retailer set up a 581-square-foot apartment in a Paris subway station for five people to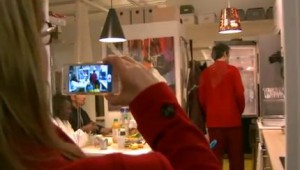 call home. The stunt lasted six days and attempted to show the commuters that passed by every day just  how easy it is to make a tiny-sized apartment comfy using only Ikea's products.
Donaldson: I think this is absolutely brilliant. This is out-of-the box thinking that allows people to envision how the products can be used in tight quarters. It's a little more expensive to do, instead of just buying space on a wall or a board; you actually have to pay rent. But this will definitely have you stop and take a look.
They could activate it by giving discounts on some of the items. Maybe there's a QR code that takes you to a list of all of those products that you're looking at. I think that to capture the imagination of the Canadian market, they may want to activate it a little more precisely instead of just using the visual, where you have to go to the Ikea website and search the items. Everything is about making it easier for the consumer.
Click here to read the international story.
South Korea: Homeplus makes a big reveal
This subway domination for Homeplus supermarkets is from the same company that brought us the virtual subway grocery store, but this time they're doing it without the ability to purchase. The stunt followed the same creative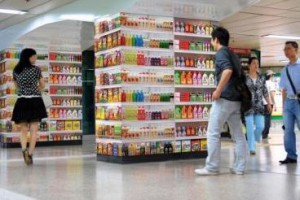 formula and was meant to publicize the soon-to-be opening of a branch near the subway. The intention was to make commuters feel as though they had stepped right into the supermarket without having to really go anywhere.
Donaldson: I like that consumers can see what the store will look like. The problem is, a lot of people would want to know how to actually use it. Again, it's great that you're in front of the consumer, but in many cases they will still want to go the next step. You need that instant gratification, so if I need a shampoo and I see the shampoo on the wrap, but you're not allowing me to scan or order it, then it's just "oh, that's great, this is it?"
Don't get me wrong, it's kind of brilliant in how they wrapped it and it's kind of cool, but it looks like any other store. So, if there is no fulfillment side to that, I don't think it would be effective. You know, creativity is fantastic, but I think the effectiveness lies in being able to draw people into the store.
Click here to read the international story.
UK: Dove tweets to tug at heartstrings of commuters
The Unilever brand is always game to dish out its love for women. This time it came in the form of tweets on a digital board at London's Victoria Station on Valentine's Day. The brand asked commuters who they thought is the most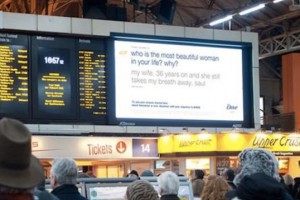 beautiful women in the world, as well as what they love about the most romantic day of the year. People could either tweet or text with their sappy but sweet responses to the brand, which were then displayed on the board.
Donaldson: When you make that emotional tie with someone on Valentine's Day, people will participate; people will want to do that, because everybody wants to tell their own story. In this case, they've done an amazing job at playing on emotions and getting people to actually tell a little piece of their story. They get to see their name and it's instant gratification. They take a picture, they email it to their girlfriend, mother or grandmother and they get points from that as well.
It's that emotional tie and interacting with the consumers in the immediate area that makes this brilliant. And they haven't over-branded it either. It's innovative and would work in any market. The Canadian market would probably eat this up.
Click here to read the international story.