Corona celebrates the May long weekend
The beer brand is counting down to the weekend New Year's-style with a Facebook app and offline celebrations in Toronto and Montreal.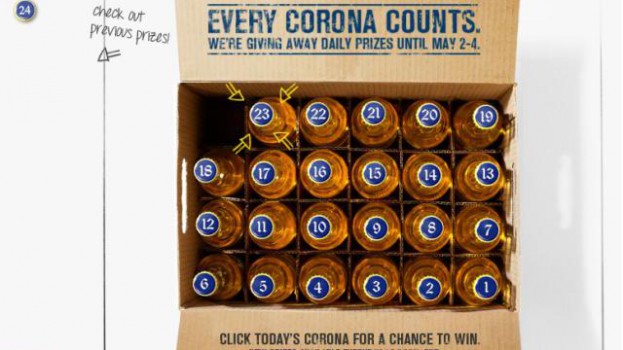 Corona Canada is celebrating the countdown to Victoria Day weekend much like one would for festive holidays like Christmas and New Year's.
In collaboration with Zulu Alpha Kilo, the beer brand recently launched a Facebook application that mimics an advent calendar, illustrated as a two-four case of Corona. The app acts as a countdown to May 2-4, with each bottle in the virtual case representing a day, and inviting users to register to win prizes. Digital OOH boards, featuring a clock that counts down the days to the weekend, have been placed across the country (in English and French) by media agency MEC.
The brand also worked with agencies The Hive and Tank to arrange a patio party in Toronto, as well as in Montreal, where the brand plans to drop a larger-than-life lime into an equally hefty Corona bottle (measuring 20 feet tall) in both cities.
"In Times Square at New Year's Eve they have a countdown for the celebration, so we thought it was appropriate for Corona to do the same," Mike Sutton, managing director, Zulu Alpha Kilo, tells MiC. "It's that moment of the lime ritual, where it goes into the bottle, signaling something special is about to happen." He hopes that by creating a grand gesture with the large-scale bottle and lime stunt, the brand will be on the lips and minds of consumers during the patio season.
The Modelo Molson brand is no stranger to social engagement, having recently created a summer-themed app (but in the winter) that asked Canadians when they enjoy drinking Corona.
Sutton adds: "It's an inherently social brand, and for that reason it makes a lot of sense to engage in the space."