Tightrope walker set for trip across Niagara Falls
Daredevil Nik Wallenda announces branding opportunities for companies looking to cash in on the June 15 walk, which will be televised in Canada and the US.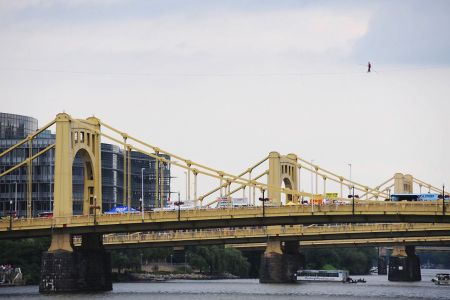 After brokering a deal between two governments to change existing laws, tightrope walker Nik Wallenda announced this morning his walk across Niagara Falls will take place on June 15.
The walk, touted as a must-see event for the summer, was announced this morning at a press conference. ABC in the US and a yet-to-be-announced Canadian network will broadcast it live on the 15th from 8 p.m. to 11 p.m.
The historic walk – which will not be allowed to be repeated for another 30 years – required both sides of the border to change existing laws banning stunts over the falls.
"Everything from the Times of London to the front page (above the fold) of the New York Times [have covered it], it shows the magnitude of this event," Wallenda tells MiC.
Wallenda, who hails from the Flying Wallenda family of tightrope walkers says sponsorship opportunities for brands include everything from the shoes and glasses he wears, to actual event sponsorship.
"A question I guarantee I'll get from 150 media outlets is 'What type of shoes will you wear?'" he says. "There are endless possibilities for branding for this event."
David Diamond, president of Diamond Integrated Marketing, the agency handling marketing for the walk, says that this will be a great opportunity to join what he calls the summer's biggest sporting show leading up to the 2012 Olympics.
Based on research by Toronto-based Enigma Research, the walk is predicted to bring $120 million into the Niagara Falls region over the next five year with the legacy effect, and within 24 hours of the actual event, Wallenda's image will be seen by 600 million to 1 billion people worldwide, he says.
"The world is focused on this event," Wallenda adds. "This is a once in a lifetime opportunity to reach a global audience."