Jeanne Beker provides details on what's next for her career
The style maven on her plans for a multi-platform program anchored more closely to viewers' own lives.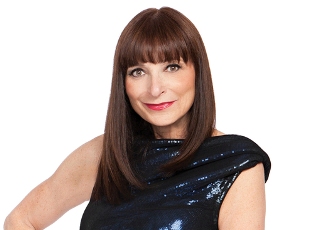 In the wake of the surprise ending of her iconic program, former Fashion Television host Jeanne Beker talks plans for a multi-platform program for women that's in the works as part of the FT brand evolution, and discusses the shock she felt when she heard the show would go dim.
"Even by its very name, Fashion Television sounds…limiting. Television is just one piece of the puzzle at this point in time, for anything in the communications business. It's really got to be multi-platform," says Beker, whose career has spanned television, radio, print and web.
She adds that the content is ripe for the emerging platforms that broadcasters are turning to to grab audience eyeballs.
"Obviously we have not been doing enough of [multi-platform offerings], in terms of what we've been doing with fashion with Bell Media," she says.
"Even the Fashion Television website was always simply information from the show that was being put online, or video from the show that was being put online. There was never really an interactive thing going on, and that's absolutely what we have to do," she insists.
Beker says she's still in discussions with Bell Media to lock down the format and structure of the new program, which she says will surface early next year.
Fashion will still be part of the equation, she adds, but the show will take a more holistic, lifestyle-based approach, targeting female viewers, with an increased emphasis on Beker's own personality and style sense. She describes her personal brand as being one that speaks to women of all ages, with a strong emphasis on friendliness and familiarity. The program will "talk about what's going on, not only in the great big world, but in [womens'] own hearts and minds, in their own closets, in their own daily lives."
Of hearing the news that FT would suspend production, Beker says that she was shocked to learn it – about 10 minutes before it was announced to the rest of the team.
She says in recent months she had been pitching Bell Media on other projects and ideas related to moving the FT brand, but says she had no idea that production on the weekly half-hour series would cease.
"At one point, I was told the show was being put on hiatus, so in a sense, I suppose now I understand," says Beker.
"They said, 'You're still going to be with us; we unfortunately had to let some people go.' It was just a shocker, a very sad moment," she adds.
But Beker says she understands the decision if the show wasn't delivering audience numbers.
"On the other hand, I do understand that business is business, and if a show's not delivering the numbers – and I think essentially, that's what [the decision] was. As beloved as the show was, because it was such a staple in so many viewing diets – the black and white of it was I just don't think the numbers were there on the scale, but they believed numbers should be there," she says.
Beker adds she thinks that multi-platform offerings, combined with a defined approach driven by the FT brand and her personal brand, will draw viewers in.
"Ultimately, that's what it's all about. We're all competing for ad dollars. People are going to gravitate towards various people, places, platforms that have a point of view," she says.
From Playback Daily