Teletoon sets launch date for Cartoon Network in Canada
Cartoon Network and Adult Swim will come alive in Canada on July 4, Astral's Teletoon Canada announced Thursday.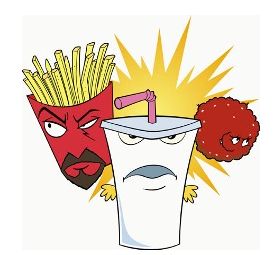 In the lead-up to the launch of Cartoon Network in Canada, Teletoon will air weekly nested programming blocks of Cartoon Network programming on Teletoon, Teletoon at Night and Teletoon Retro starting Saturday, May 5.
On Friday, June 1, Teletoon at Night launches a weekly feature of late-night, adult-skewing Adult Swim shows, and starting June 2, Teletoon Retro will air a weekly block of Cartoon Network shows from its classic library.
The preview lineup includes Cartoon Network shows The Amazing World of Gumball and Dexter's Laboratory on Teletoon, The Venture Bros., Harvey Birdman, Attorney at Law and Aqua Teen Hunger Force (pictured) in the Adult Swim block on Teletoon at Night, and Powerpuff Girls and The Grim Adventures of Billy and Mandy on Teletoon Retro.
The nested blocks will cease airing after July 4.
The deal between Astral's Teletoon and the Turner Broadcasting System to bring cartoon series to Canadian viewers was announced in February.
The digital, ad-supported channel will feature Cartoon Network programming between 6 a.m. and 9 p.m., followed by the Adult Swim late-night lineup commencing at 9 p.m.
Websites for Cartoon Network and Adult Swim will launch simultaneously with the network, featuring video clips, games, programming information and additional content.
From Playback Daily