Temptations hijacks with cats
The feline treat brand has launched a new online campaign aimed at increasing its presence with consumers in the digital landscape.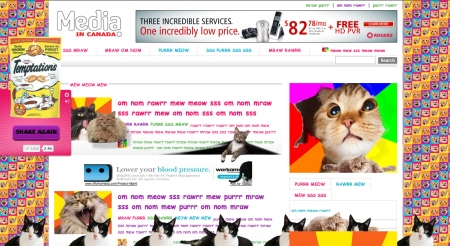 Mars Canada cat treat brand Temptations has launched "KittyCat Hijack," an online campaign aimed at engaging consumers in the digital space.
The online campaign, with Facebook ads bought by MediaCom Canada and creative from Proximity BBDO, allows users to shake a virtual pack of Temptations treats on any webpage (once the bookmarklet has been dragged and dropped into the users bookmark toolbar from the brand's Facebook page) and see the site taken over by cats. The online execution is a first for the brand, Shiran Teitelbaum, copywriter, Proximity Canada, tells MiC.
"We were in a brainstorm and decided we wanted to create something as exciting for people as the treats are for cats," says Teitelbaum. "We worked with the creative technologist department at Proximity to develop the vision."
Teitelbaum says the cat takeover bookmarklet will continue to live on the brand's Facebook page, targeting consumers over 25 for the foreseeable future (or at least until the internet stops being obsessed with cats).
"The whole strategy is to help grow the online fan base so we can talk to them about promotions," she says.