Psychology in advertising and how Smirnoff got its mojo back: Future Flash
Day one of the ICA event featured talks from Ogilvy vice chairman Rory Sutherland and Diageo VP Michelle Klein.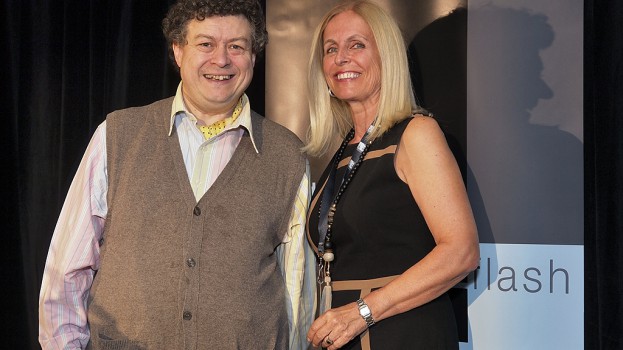 The Institute of Communication Agencies (ICA) has taken to Blue Mountain, ON. with a panel of speakers and 150 of Canada's media and advertising industry members for its annual Future Flash conference.
Day one of the conference, under the theme of "Innovation, Brands and the Human Experience," kicked off yesterday with a talk from Rory Sutherland, vice chairman, executive CD, Ogilvy Group.
His talk centered on the idea that marketing needs to incorporate more human sciences, including psychology, because humans don't make cold mathematical decisions.
"All human perception is relative, not absolute," he says. "That's what makes us different from machines."
He said the sweet spot for business would be intersecting thinking from economics, psychology and technology.
Citing psychological theory, Sutherland says our unconscious brain isn't given enough credit by advertisers in how it affects purchasing decisions. An example of this he gave is that of people who unconsciously see a brand advertising a product as a sign it is committed to business in the long haul, rather than being a "grab your money and run" venture.
Countering word-of-mouth and social media as the be all and end all, Sutherland says people think "if this product is as good as my mate says it is, why haven't I heard more about it?"
Also speaking was Michelle Klein, VP, digital and communications, Diageo, on Smirnoff's Nightlife Exchange and how the brand has deepened engagement with its consumers through connecting digital and offline experiences.
Now in its second year, the Smirnoff Nightlife project was launched based on an idea from Diageo's group of agencies, lead by JWT, says Klein.
In its first year, the project had consumers from different cities in 14 countries say why their nightlife was the best and then Smirnoff hosted parties which swapped that nightlife for another location around the world. For example, a party in Toronto featuring the nightlife of Mumbai.
For the second edition this year, Klein says the project increased in scope to include 50 countries and also focused in on the crucial nightlife element of dance. Participants were also encouraged to upload videos of them dancing for a chance to win a spot on Madonna's worldwide tour. The 10 finalists were flown to New York City last November for a party with the queen of pop in attendance, where one winner was crowned.
"Brands often talk about what they're going to do in digital and then do the experiential, we wanted to flip it around," she says. "It is easier to push content on YouTube, it is one step removed from consumers. It is harder to get people to a place at a particular time."
Klein tells MiC the program, which uses footage from the parties in its ad campaigns, has changed the way Smirnoff looks at its marketing and has essentially given the brand "its mojo back."
"We look at things from the viewpoint of how can we infuse social experiences into campaigns," she says. "We can create million dollar TV ads, but the magic comes from consumer participation and the feeling that people are creating it themselves. We couldn't get the world to dance together without that magic."
The ICA-hosted Future Flash conference continues today.
Photo (by Dave West): Rory Sutherland, vice chairman, executive CD, Ogilvy Group and Gillian Graham, CEO, ICA