Les Affaires recruits Sid Lee to design its cover
The Montreal-based newspaper gave the agency control over what the cover of its latest issue would look like, based on the theme of creativity in business.
For its May creativity issue, Montreal's weekly business newspaper Les Affaires gave the editorial reigns to agency Sid Lee with the ask that it reinvent its front page to give it creative utility.
The Transcontinental Media-owned newspaper's new cover is a fold-out, and on the inside of the page the layout is designed in the form of a calendar, much like what a business person's agenda looks like, Christophe Bergeron, content director, Sid Lee, tells MiC.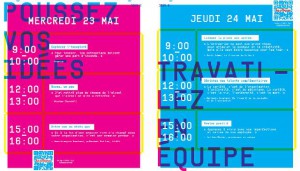 On the inside double page, next to each of the calendar days, a QR code was placed. When scanned, the reader is taken to a microsite featuring aggregated news on all that has to do with creativity in business. The agency went through back-issues of the newspaper to find articles that related to the creativity-themed issue, says Bergeron.
"We wanted the cover to be a useful content device," he says, adding that it is meant to be a how-to guide on being creative in business, from how to make sure that you're in the right state of mind to how you work with a team and how you go about selling your creative idea in a pitch.
"When you work in media, especially in print, there is this process that you follow every week," he notes. "You know, the cover is a very personal thing and it's one of those things that print media tends to be very traditional about how they shape it. So, it's really bold for them to do it completely different. Having a print platform that's linked to digital is something that's used extensively in advertising now, but maybe this is something to explore from the content side."