Sears makes a move to the top: Media Monitors, May 7 to 13, 2012
The retailer landed in the #1 spot in Toronto, while Ford Dealer Association made its debut with the largest radio purchase in Montreal.
Sears jumped 15 places to the top spot on the Media Monitors chart in Toronto for the week of May 7 to 13.
Pizza Pizza made an appearance on the top 10 list with the second-largest radio purchase, and Telus Mobility came in at #3 (up from #19).
Other newcomers include The Beer Store at #6 and Canada Post at #7. Walmart made a larger-than-usual purchase and landed in the #5 spot, up from #31.
In Montreal, Ford Dealer Association came in at #1, Sears jumped from #10 to #2 and Brault & Martineau shifted one spot down to #3.
Mondou entered the chart at #5, as did Toyota Dealer Association at #7 and Claireview Leasing at #9. Walmart also made a big move in the French region with a purchase that took the retailer from the #18 spot to #8.
Toronto
By brand:
By category: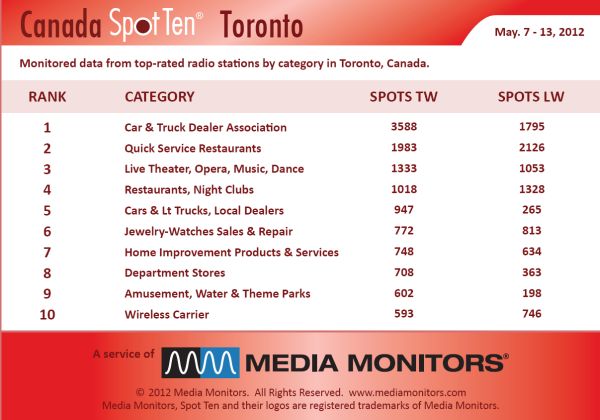 Montreal

By brand:
By category: