Astral RadioPlus gets outside with Sears
The mediaco has worked with Vizeum to create a summer-themed game that lives on 21 of its radio station's websites.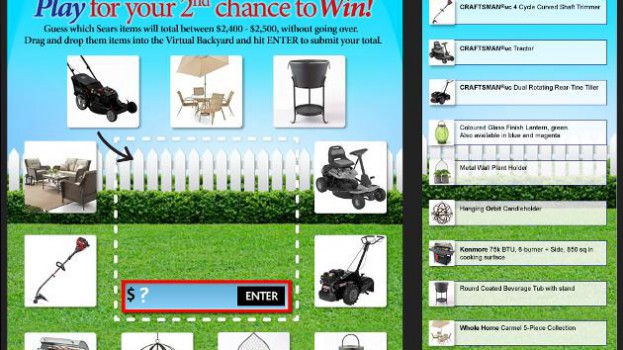 Sears and Astral RadioPlus have fashioned a web-based game reminiscent of The Price is Right.
However this particular guess-the-retail-price promotion is geared toward an audience of radio listeners, particularly men between the age of 25 and 54, and encourages consumers to take a peek at the retailer's site for price checks, Dean Rutherford, VP and general manager of Astral RadioPlus, tells MiC.
Housed on each of the station's websites, the "Backyard Blitz" game opens to show a yard surrounded by mowers, tractors and patio furniture, all of which can be purchased at the retailer. Players can either enter to win a Sears gift card through a contest tab, or they can double their chances by guessing which items tally up to a bill of between $2,400 and $2,500.
The partnership between Sears and Astral RadioPlus was initiated and spearheaded by Vizeum, and involves on-air and online advertising that  invites listeners of 21 radio stations across the country to play the game. Stations that will air the promo spots and house the web game include: boom 97.3 and NewsTalk 1010 in Toronto, Shore 104.3 FM in Vancouver, The Bear in Edmonton, CJAY 92 in Calgary, The Bear in Ottawa and the  entire NRJ network in Quebec.
Rutherford adds that working alongside Vizeum was Astral's Media Creativity division, where the focus is "finding different ways, beyond traditional 30- or 60-second spots, to utilize our stations and reach consumers."
"I don't think [anything] along this line, on this scale, has been done too often on radio, if at all," says Rutherford. "As much as our stations are locally driven and locally programmed, it does showcase the ability for radio to deliver one turnkey execution across multiple markets, multiple time-zones and market formats."
The online game lands in time for Canadians out primping their home turf for the summer with Sears setting itself up as a one-stop destination for outdoor items, and at the same time, reinforcing its affordable price proposition, says Rutherford.
The "Sears Look Reports" is the second phase of the partnership and broadens the audience reach with the use of 10 additional Astral RadioPlus stations to promote Sears clothing collections. The seasonal initiative will see 60-second spots, with Sears' trend directors Cynthia Florek in English and Isabelle Paquette in French detailing the retailer's fashion offerings, airing for three weeks at a time during the spring, summer, fall and winter, says Rutherford.
Stations that will blast the minute-long Look Reports include the entire Virgin Radio network in Vancouver, Calgary, Edmonton, Toronto and Montreal-E as well as the Rouge and NRJ network in Montreal-F, Ottawa-F, Quebec City, Sherbrooke and Trois-Rivieres.