Maynards lets Granny loose
The Kraft-owned brand is at it again with an OOH campaign that puts a new face to its candy.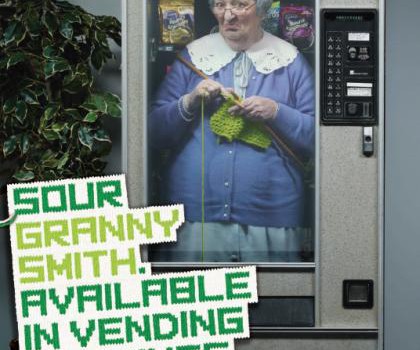 Maynards is tickling consumer's imagination again with a distinctively odd campaign that has transit locations, sidewalks and convenience stores dotted with ads that bring its new Sour Granny Smith candy to life.
Behind the campaign planning is Jungle Media, with MediaVest on the purchasing and The Hive at the creative helm.
The Kraft-brand launched a campaign late last year that had images of consumer's faces turned into Maynards candy, and Mackenzie Davison, director marketing, gum, candy and cough, Kraft Canada, tells MiC that this is a continuance of its streak of "deliciously odd" marketing that "really highlights opportunities that are as playful and silly as the candies themselves."
In addition, the brand's goal for the present campaign is "to get Granny Smith on the streets" and "using wild postings to build her legend and the transit buy to announce her arrival in stores all worked together to allow for our consumers to encounter Granny throughout their day," says Davison.
The ads introduce consumers to the new candy and gives it a fun persona in a tongue-and-cheek way, she says. Such creative shows Sour Granny Smith, with a set of knitting needles and disagreeable face, in vending machines and on shelves with copy that informs consumers of the new product now in stores.