AToMiC: Stevie makes social media shows
The start-up, which breaks social media updates into TV-like programs, is open to sponsorship opportunities.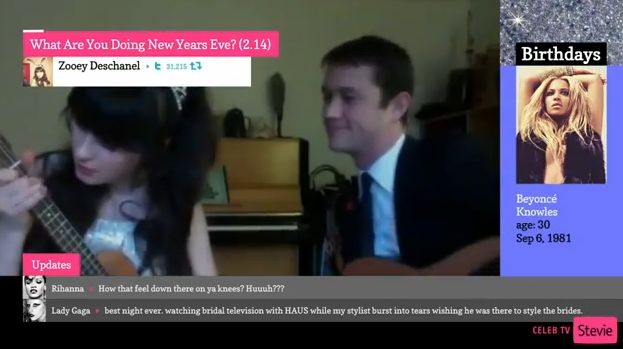 Ever wish trolling your social media feeds was a bit more like watching TV? So did Gil Rimon and Yael Givon, co-founders of Stevie, a start-up website that launched last week at Tech Crunch's Disrupt conference in New York City, which organizes social media feeds into programs with video clips from around the web.
Rimon tells MiC the website works by connecting with a user's Facebook and organizing updates, including status updates, videos, links and birthdays into different categories of TV-like programs including comedy, music and celebrity gossip.
Stevie then grabs related video content from sites like YouTube to build programs around the social media updates. Because Stevie has access to what a user and their friends are posting on Facebook, it uses that information and grabs musical and comedy videos which either are from acts the person has posted about, or content that is similar to that which has appeared in a user's posts.
Updates from the user's social network, like birthdays and Facebook status updates, play along the side and bottom of the video programs like a ticker, says Rimon.
Stevie has two modes of operating, says Rimon. If you leave it on continuously then the shows play on loop and each program is kept to about three to five video clips long. If you choose to watch one program at a time, like comedy, then the programs get longer. There is also a remote control app for the site, which can be downloaded for iPhone and Android and allows users to switch between different programs, or post the videos to their Twitter or Facebook.
Rimon says though the start-up just launched, they are open to advertisers and sponsors placing interstitial spots between video clips in the programs. Though the start-up is based in Israel, ad opps can be tailored to Canadian companies because the website can be used anywhere in the world.
"In the future we also hope to offer premium content, by showing trailers and then giving the option of the consumer buying the whole movie or show," he says.
As for the future of the site? Rimon says Stevie will be launching an app for iPad and AppleTV this year, and hopes to eventually have its social media programs air on its own channel on TV.

What is AToMiC? AToMiC stories are about cutting-edge advertising, technology, media and content creation. The AtoMiC conference and award show is hosted by Playback and strategy magazine. Read up on the most recent winners here.