Citytv laughing all the way to the Upfronts
Rogers Media is betting on comedy for fall 2012 as it returned from the Los Angeles screenings with nine new sitcoms and only four new U.S. network dramas.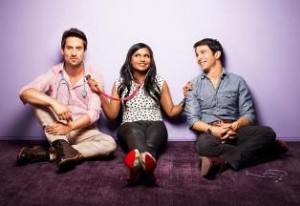 Citytv on Tuesday unveiled nine new comedies and four dramas bought at the recent Los Angeles screenings that get the expanding Canadian network directly into simulcast competition with rivals Global Television and CTV.
Unveiling its fall and mid-season 2012 schedules to Canadian advertisers in Toronto, parent Rogers Media is shoe-horning a slew of new U.S. comedies into a primetime schedule with two-thirds returning shows, including breakout comedies like New Girl, 2 Broke Girls and Suburgatory.
That success with chucklers last season had the Rogers Media team laughing in Hollywood, as they screened new U.S. pilots and mostly did package buying with Warner Bros. Television and 20th Century Television, and then scheduled new shows as simulcasts for its upcoming 2012-13 campaign.
These include sitcoms like Partners for Mondays at 8:30 a.m., Ben and Kate, simulcast on Tuesdays at 8:30 p.m., The Mindy Project (pictured), from The Office's Mindy Kaling, also on Tuesday, this time at 9:30 p.m., and for Sunday nights Malibu Country, starring Reba McIntire, simulcast at 8 p.m.
Six nights of comedy on Citytv will be bolstered with a late-night lineup that adds Jimmy Kimmel Live! at midnight, again in simulcast.
On the drama side, Rogers Media acquired the J.J. Abrams' series Revolution for Monday nights at 10 p.m., 666 Park Avenue for Sunday nights at 10 p.m., while the previously-acquired Hannibal and The Carrie Diaries will air mid-season.
As with rival Canadian broadcasters, Citytv will air reality series later in the year, including in the summer.
So this fall will see the stand-out debut on Citytv of The Bachelor Canada, with Tyler Harcott announced Tuesday as the host.
And daytime, Citytv is adding Katie, the new talker from Katie Couric, to air weekdays at 4 p.m.
"Our schedule is better every day," said Scott Moore, president of broadcast at Rogers Media, as he unveiled his schedule ahead of an Upfront presentation to domestic advertisers Tuesday afternoon.
"With Citytv's expanded footprint, we will be in nine million homes this fall, reaching more viewers in more homes than ever before. And we're not done yet," he added in a statement.
From Playback Daily