Toronto Standard launches a video site
The online publication has created a dedicated site, Daily Cable TV, to share its in-house produced videos as well as those taken from social sites.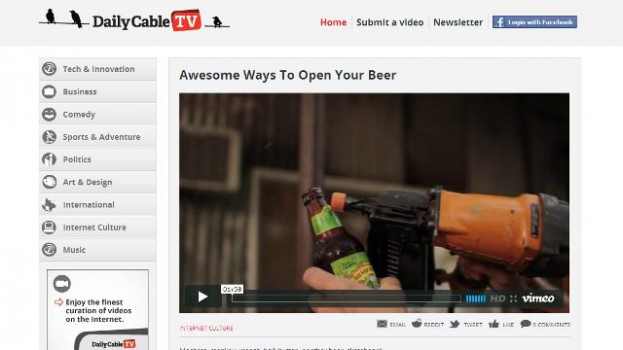 The Toronto Standard, an online news portal, has found a home for its video content, as well as those harvested by editorial staff members from Vimeo and YouTube.
The digital platform is called Dailycabletv.com and Toban Dyck, managing editor, Toronto Standard, tells MiC that after receiving a great deal of interest from visitors for its in-house produced videos, the publication decided to take it a step further and create a dedicated hub for the content.
The site, targeting men and women between the ages of 25 and 45, is an aggregator of videos that pertain to technology and innovation, business, comedy, sports, art & design and more. Dyck is open to having advertisers place pre-roll ads on Toronto Standard-produced videos as well as banner ads at the top of the page.
"We are working with a number of major advertisers to create integrated campaigns leveraging the video capabilities of [the site] and the rest of Toronto Standard," he says, noting that the partners will be announced in the next couple of weeks.
He adds that the Toronto Standard is open to including third-party videos directly submitted by visitors to the site, saying that the basic driver for them will be that they maintain a high-quality standard and sit in the creative realm.
"Video has always been something that the Toronto Standard has been focused on. It's not going to be a hodge-podge of everything. It's not a simple matter of putting up popular videos, there is more of a method to it," he says of the content that will be individually handpicked by staff.