Global focuses on 10 p.m. for fall
Shaw Media has announced a renewed focus on Thursday night programming for the channel, buying bigger than it did last year.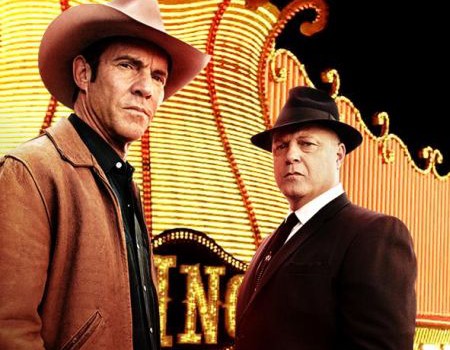 If Shaw Media's Global Television has its eye on the prize, then the prize seems to reside at 10 p.m., as the company heads into what Barbara Williams, Shaw's senior VP, content, calls "a really key year."
Paul Robertson, group VP of broadcasting and president at Shaw Media, says there was a big opportunity to add new content this fall, adding that they spent more on new programs this year than last.
Of the five new dramas, two comedies and one doc series that have been newly added to Global's fall lineup, unveiled Wednesday morning, four of those series sit in 10 p.m. timeslots, including new dramas Vegas (Tuesday), Chicago Fire (Wednesday), Elementary (Thursday) and doc series Close Up (Saturday).
"There are a couple of key things in this year's programming. We wanted to address 10 p.m. on a few nights," Williams told MiC ahead of the grand reveal on Wednesday. Williams said that Shaw also still owns rights to The Office, as well as new comedy Animal Practice, though neither currently sit in the fall schedule.
Strategically, says Williams, Tuesday and Thursday nights are core nights that Shaw addressed with star-powered new dramas.
"House has been such an enormously powerful part of our schedule for so long, but we wanted to put some powerful new dramas on the schedule," said Williams.
Tuesday nights start at 8 p.m. with returning cop drama NCIS, and end with new drama Vegas, which stars Dennis Quaid and Michael Chiklis, at 10 p.m., simulcast with CBS.
And Williams says that Global's Thursday lineup is stronger than it has been in recent years, starting with the new Scott Speedman-starring action-thriller Last Resort at 8 p.m., Glee at 9 p.m. and Elementary at 10 p.m.
Shaw is betting big on CBS show Elementary to grab audience eyeballs, with Williams adding that she thinks the show is "the number one pick."
The drama is a one-hour series about Sherlock Holmes (Jonny Lee Miller) and Dr. Joan Watson (Lucy Liu) working as a modern-day crime-solving duo for the NYPD.
Other new dramas include the action-driven series Chicago Fire, set in an inner city firehouse, and Made in Jersey, about a young working-class woman who uses her street smarts to compete against her colleagues at a Manhattan law firm.
"We still primarily are an 18-to-49 [age demo] network, but we are seeing the 10 p.m. dramas tend to skew a little more female 25 to 54," said Williams. "It will be interesting to see how Vegas skews; it might hold on to the 18-to-49 male audience a little more," she added.
On the comedy front, the half-hour Matthew Perry-starring series Go On will hit airwaves Wednesdays at 9 p.m., and Guys With Kids, exec produced by Jimmy Fallon, will follow at 9:30 p.m.
Mid-season, Anne Heche-starring Save Me and reality show The Job will also join the roster. New to the daytime lineup are The Jeff Probst Show, a one-hour talk show led by the Survivor host, and daytime series The Ricki Lake Show.
The strength of the Canadian programming lineup is bolstered by the return of breakout hit Recipe to Riches, which will air Saturday at 8 p.m., and Bomb Girls, which will return in 2013.
Williams tells MiC the absence of Canadian scripted television in the fall schedule is more a function of knowing where to put programs than not valuing the shows as much as the US offerings.
"I think we have become very smart at recognizing that not all shows have an equal opportunity, you have to know what works where," she says. "There is an old thinking that the best go to the biggest and if it isn't on Global then it somehow means it is not as good or we don't like it, or don't care about it. I think what we have come to realize that there are some things that are suited to Global and some things that are suitable to specialty. Continuum is a good example of that, with the big numbers it pulled in for the premiere. Bomb Girls makes sense on Global because it has a broad appeal, whereas Continuum, Lost Girl, Beauty and the Beast and Haven are quirkier and we are building audiences based on that content on our specialty networks."
Global will also broadcast original one-off, 2012 Canada's Walk of Fame Awards, an annual gala event honouring Canadian talent.
Newsmagazine series 16×9 moves to a 10 p.m. Friday timeslot, while new doc series, Close Up, a series of one-off POV docs, joins the Saturday slate at 10 p.m.
On the specialty side, Shaw Media is the launching of two new specialty channels, Lifetime Canada and H2.
Click here for the full Global Television 2012 fall schedule
MiC caught up with Williams to ask what Shaw's programming edge is over the other networks this fall:
With files from Val Maloney