Honda Dealers continue to buy big: Media Monitors, May 21 to 27, 2012
The association made the largest purchase for the second consecutive week in Toronto, as did the Ford Dealer Association in Montreal.
Auto brands are filling the radio airwaves, with the Honda Dealers Association making the largest purchase in Toronto and the Ford Dealer Association doing the same in Montreal, according to Media Monitors for the week of May 21 to 27.
Canadian Tire made the second largest purchase in Toronto, moving up from the previous week's #6 spot. The Ford Dealer Association jumped to #3, up from #20.
New entrants include Pizza Pizza at #4, Heart & Stroke Foundation of Canada at #8 and Pepsi at #9.
The Source made a notable leap from the previous week's #35 spot to #6.
In Montreal, Canadian Tire came in at #2 (moving up from #10), while the Gouvernement du Quebec entered the list at #3. Bell Bundle also made its debut, having entered at #10.
A big move was seen from TSN, where it jumped from the #73 spot to #7.
Toronto
By brand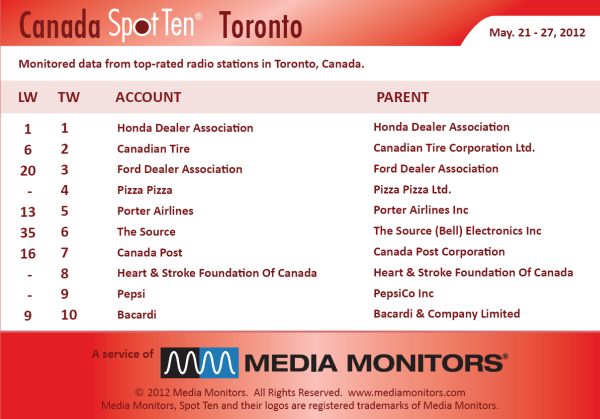 By category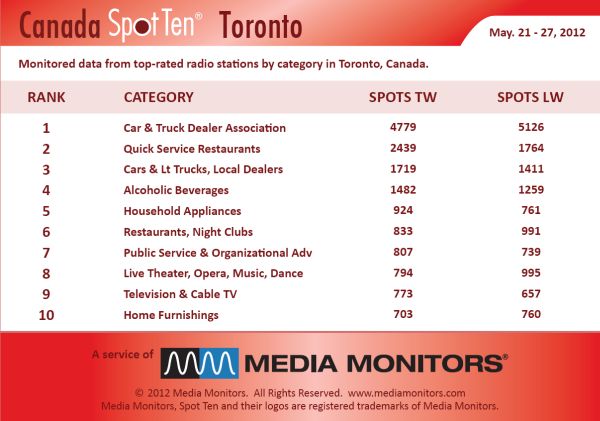 Montreal
By brand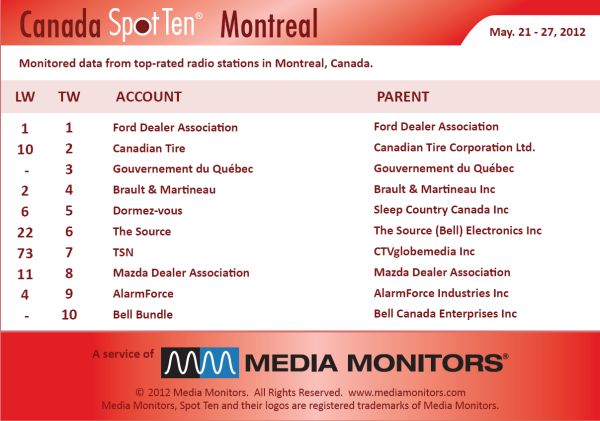 By category