Canadian Tire travels to the top: Media Monitors, June 4 to 10, 2012
The retailer landed in the #1 spot in Toronto, with the Gouvernement du Quebec having made the largest radio purchase in Montreal.
Canadian Tire jumped from #6 to #1 with the biggest radio buy in Toronto for the week of June 4 to 10, according to the latest Media Monitors report.
OLG Slots and Casinos made a considerable leap from #48 to the #2 spot and Sears shifted up from #33 to #3.
The Chevrolet Dealer Association made a noteworthy move with a purchase that took it from #64 to #7, as did The Home Depot, which moved from #70 to #10.
In Montreal, the Gouvernement du Quebec came in first on the list, up from the previous week's #2 position. Société des alcools du Québec (SAQ) skyrocketed from #43 to #2, with Dormez-vous following in the #3 spot (up from #9).
Newcomer Ford Dealer Association entered the list at #9, and notable moves were seen from Telus Mobility (which moved up from #11 to #5), Crescent Street Grand Prix Festival (from #14 to #7) and Sears (from #25 to #8).
Toronto
By brand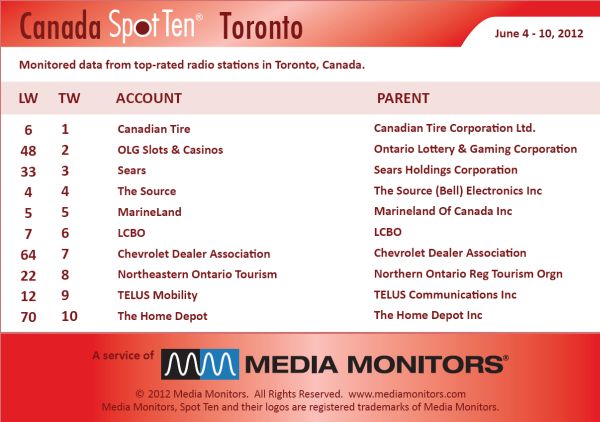 By category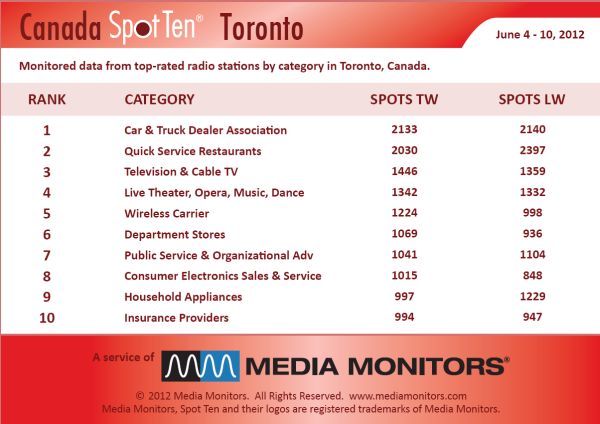 Montreal
By brand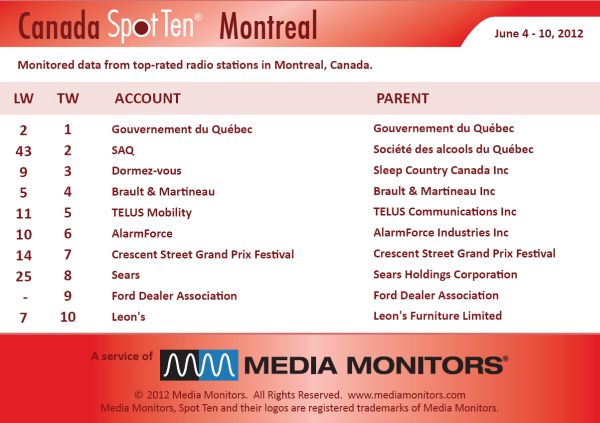 By category