Microsoft Advertising launches new ads on Skype
The software company's ad division is hoping the unit, which shows up each time a person makes a voice call, will give users content to share.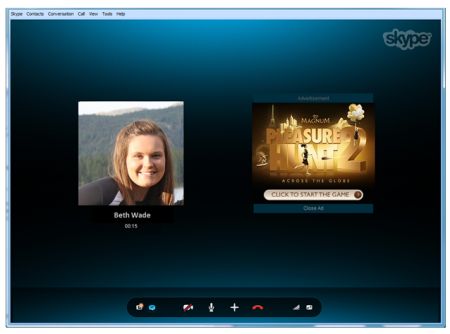 A few months ago Skype joined Microsoft Advertising, and since then the division has cooked up a couple of ad units. One such tweak to its business model was officially introduced yesterday. The "conversation ad" sits in the user's Skype window and measures 300 x 250 (the same size as the person's image that comes up during a call). It's name reflects the hopes that it provides users with content to converse about with their friends and family, according to Microsoft Advertising's blog.
Only non-paying registered users will see the ad unit settle in their conversation window when making a voice call. Once the user decides to use the video feature, the ad will remove itself from the screen.
To keep the space and the user's experience as clean and uncluttered as possible, there will only be one static ad during the call and it will remain silent, Peter Farfaras, emerging media specialist, brand solutions, Microsoft Advertising, tells MiC. There will be no rich media, pop-ups or anything that distracts from the Skype user's experience, he adds.
Farfaras further notes that targeting will be based on the user's anonymous ID which provides their location, age and gender; however users will be able to opt out of providing that information.
"This was created specifically for marketers to become a part of that Skype consumer experience," he says. "The average call time is between 22 and 27 minutes, and that's important because brands are looking for a longer time spent with consumers."
There are no launch partners as of now, says Farfaras, explaining that Microsoft decided to keep it under wraps while testing the product. They will be reaching out to agency partners in the next weeks to find brands to layer within the space, he adds.