Sobeys launches Moodie Foodie app
The grocery chain's new app lets consumers choose recipes based on how they are feeling at that moment.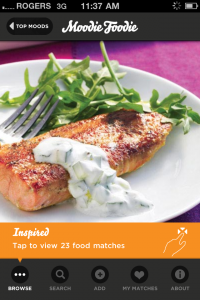 Sobeys has launched a free smartphone application called Moodie Foodie that enables users to choose and prepare food based on their mood.
"We recognized that our customers were basing many of their food decisions on how they felt at that point in time,"  Paul Flinton, VP brand and product marketing, Sobeys, tells MiC.
Upon opening the application the user is asked to select their mood, with choices that include sweet, naughty and excited. A list of recipes then appears to match that selection. The app is integrated with Twitter and Facebook so users can inform their social networks what they are preparing and eating.
U.S.-based research firm NPD recently said fewer people are using traditional recipe sources such as cookbooks, with increasing numbers turning to the web or other social media for cooking ideas.
Sobeys developed a marketing plan to promote the app that features paid media online (with creative and planning by Arc Worldwide Toronto) and utilizes social media, with various bloggers set to review the app. It will also be promoted inside the pages of Sobeys' magazine Inspired. Moodie Foodie won't feature any third-party advertising, as Flinton says the idea was to keep it as clean and simple for the end-user as possible.
The Moodie Foodie app is currently only available on Apple devices.