Spotted! Wine Country Ontario gets a close-up
The tourism co has placed an actual wine glass in a Toronto transit shelter to illustrate just how close city residents are to wine country.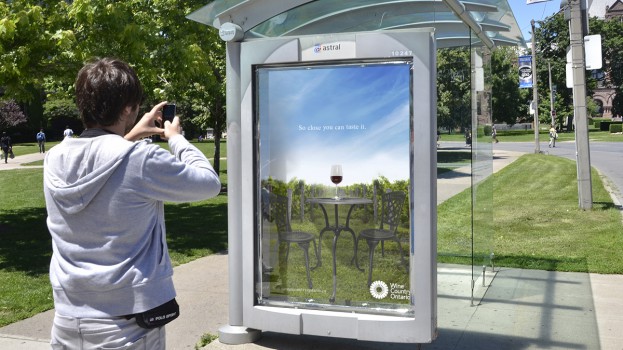 Torontonians are so close to wine country they can almost taste it.
That's the message behind Wine Country Ontario's latest efforts, summarized in the placement of a real wine glass behind the plexiglass wall of an Astral transit shelter.
The tagline "So close you can taste it" aims to reinforce how close Torontonians are to wine country, Brian Howlett, chief creative officer, Agency59 (the agency behind the creative), tells MiC.
He adds that the "Drink It All In" campaign will see creative in LCBO's Food and Drinkmagazine as well as wild postings. There is also a social media component where consumers are being invited to take photographs of the board and post them to Twitter for its #socloseyoucantasteit scavenger hunt. Photos submissions are being accepted from June 19 until July 6 with a chance to win a Wine Country Ontario getaway.
"The OOH targets the restaurant and club district where people are likely to be out on a Thursday or Friday night, and those are the same people who are likely to travel on a weekend this summer and discover wine country," explains Howlett.
The tourism co targets slightly skewing female professionals aged 25 to 49 and will typically use billboards and transit shelters to promote, but never has it taken such a bold approach as this, he adds.