Subaru bursts out of The Grid
The auto brand's new BRZ is featured in a 3D holographic image in the publication as part of a unique front-page media buy.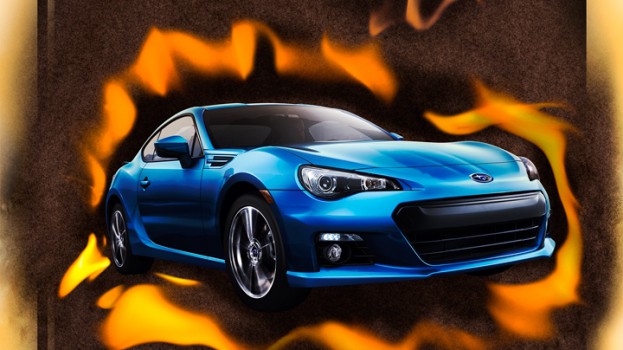 Torontonians hurriedly grabbing their weekly copy of The Grid this morning can be forgiven for pausing in their tracks. That's because it's hard to tell what they will see on first glance – the paper's regular front page or a 3D image of the new Subaru BRZ engulfed in flames.
When Subaru's media buyer OMD Canada sent out requests for proposals to publications soliciting ideas for their campaign, it contained some simple stipulations. The ads had to feel fresh, feel "like a first" and most importantly, convey the idea of a sizzling-hot car, Laas Turnbull, publisher, The Grid, tells MiC.
The Grid returned with the most ambitious proposal: a front-page takeover featuring a holographic image of the BRZ bursting through a ring of fire.
"I've never seen anything like this nor have I ever heard of anything like this," says Turnbull. "When we first came up with the idea we weren't even sure that it was technically possible to do."
The front cover changes depending at what angle the reader is viewing it, flipping between editorial copy and the advertisement. Staff produced the editorial cover five weeks earlier than normal, and the paper went to press a day early due to the complicated printing procedure required for the lenticular image.
The front-page takeover is part of a larger campaign for the BRZ that rolls out over the coming weeks with buys in The Grid, Sharp magazine, Metro and Voir (The Grid is the only one that uses holographic imagery). The campaign features a significant online component and also ambient installations – including one at the Montreal Grand Prix featuring the car surrounded by burnt objects – all culminating in the release of a YouTube movie in early July.
Without disclosing exact figures, Turnbull says the ad cost well above normal for the front page due to the higher production costs associated with it.
Paul Riss and Adam Bailey, associate creative directors at DDB Canada (the agency behind the creative for the campaign), explain that in addition to a theme centred on heat, they wanted to make the campaign about firsts: the BRZ is Subaru's first rear-wheel drive vehicle. Hence the unique ad in the The Grid, which they say is perfectly positioned to target tech-savvy urban males interested in cars, music and popular culture.
Riss and Bailey also highlight the amount of collaboration necessary between DDB, OMD and The Grid to pull off such a complex project on tight deadlines. Turnbull echoed that sentiment, saying the paper is eager to work on similarly ambitious projects in the future.
"The industry is really changing, it's gone to much more of a RFP model," said Turnbull. "Whereas a more established media brand probably rolls its eyes every time an RFP comes in…we get really excited."