Mobilicity celebrates breaking free from contracts
The telco is attempting to snag customers from other carriers this weekend, and has placed a larger-than-usual amount of advertising to support its campaign.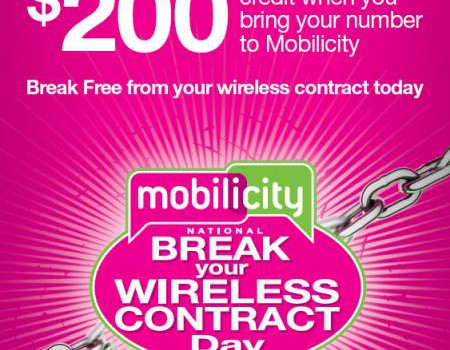 Last year's ad spend for Mobilicity's "National Break Your Wireless Contract Day" is small change compared to that of its second installment. In the first round the telco tapped into print, but this time it's leaving no media uncovered – from the unveiling of its first TV spot to an experiential parade through the streets of Toronto.
"Based on the success of last year, we knew we had to do something even bigger this year," Andrea Fiederer, marketing director, Mobilicity, tells MiC. "We even extended it to be over two days because there was such a high demand for it."
The promotion is an invitation to Canadians to "Break Free" from their current wireless contract and switch to Mobilicity's plan. When a phone contract is void, the customer will typically have to pay a hefty cancellation fee. Over the course of this weekend, Mobilicity will be giving $200 in phone credit to those who switch carriers and are left having to pay those fees.
Advertising began last week and went into full gear yesterday, and will continue until the end of the weekend. Media placement was done by Cairns O'Neil Strategic Media, with creative handled collaboratively by Hooplah and Arnold Worldwide Canada.
Fiederer is particularly excited about Mobilicity's first-ever 30-second TV spot that was created and planned by the company's in-house marketing team to air on CTV, Global, CP24, TSN and Sportsnet. Other traditional placements include ads in print titles such as Metro, 24 Hours and the Toronto Sun as well as radio hits on stations across the country.
The experiential marketing kicks off this weekend with a parade in Toronto on Saturday, projections on buildings in cities across the country, as well as ambassadors dressed up as the three major carriers and playing off the theme of "Break Free."
"The [experiential stunts] have stopping power, can spark interest, creates awareness and most importantly drives them to action," Fiederer says, adding that the telco feels strongly that they're offering something different to Canadians, giving the big three carriers a bit of a run for their money.