Quebec wants consumers to fall for its city
The French city's tourism co is using a multitude of platforms to show creative that focuses on the love it has to give visitors.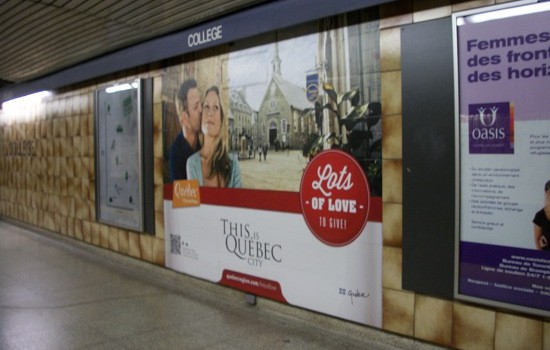 Quebec City's attractions and hotels have "Lots of love to give" to those who choose to spend their summer vacations there.
And the city's tourism co is showing that affection to potentially win the hearts of those in Toronto and Ottawa and parts of the US with a string of new creative.
Hop Brand Behaviour is the agency involved in creation and placement of the ads in print publications, subway stations, street columns and online. And meanwhile in Quebec, television commercials and radio spots (in addition to OOH and print) show creative that points the city out as a premium must-see destination.
Doris Cantin, account director, Hop Brand Behaviour, says that the French city is known as a romantic destination, and what better way to play into that notion than with ads that curate imagery of couples enjoying the sights. Further creative touts nature, food and events with copy such as "lots of flavours to discover" and "lots of shows to love."
For this campaign, Quebec City Tourism is reaching out to a mature audience, particularly within the age bracket of 40 and 54, she says, adding that the "theme expresses the area's unique character as well as its multifaceted appeal…we built the best plan that all tourism stakeholders could participate [in]."