Scotiabank sets the scene with NFC
The bank has partnered with Astral to kick off Canada's first wide-scale marketing campaign based on near field communication technology.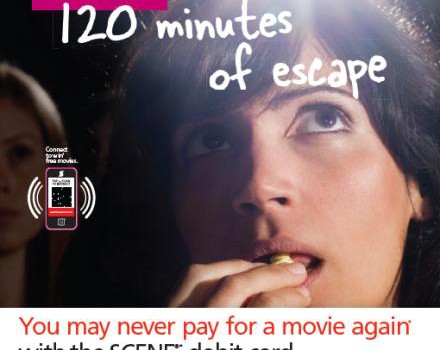 The days of fumbling around with your smartphone trying to correctly scan a QR code may soon be over.
Scotiabank is rolling out a campaign based on widespread use of near field communication (NFC) technology via chip-embedded posters placed in Astral bus shelters around Toronto to promote its Scene debit card. The chip communicates with smartphones when the user taps it against the poster.
The NFC-enabled transit posters are part of a larger campaign for the bank's Scene debit card and chequing account that involves buys on the Xbox network and Connected TV, as well as prominent play on its own and other websites. The media buy was handled by PHD Canada and the creative done by Bensimon Byrne.
When a person taps their phone on the poster in a bus shelter, they are directed to a Facebook contest offering free daily movie passes to Cineplex theatres or directions to the nearest Scotiabank branch where they can sign up for the Scene bank account. The Scene card and account allow members to earn points toward discounted movie tickets.
The new posters will also contain QR codes, as not all phones are NFC-enabled. Many newer smartphone models are equipped with the NFC technology, including BlackBerry, Nokia, Samsung and HTC, although the iPhone is not yet.
"This becomes like QR on speed," says Debbie Drutz, director, media, markets and innovation, Astral OOH. "As soon as you understand the technology and realize your phone is enabled, it is very easy to use."
NFC technology has long been used at gas stations and in public transport systems around the world to allow people to pay with special cards simply by tapping a flat surface. It is now being hyped as a way to turn a smartphone into a virtual wallet.
Transit shelters make sense for NFC technology because they offer a captive audience who is close enough to the posters to touch them with their phones, says Drutz. A lack of cellphone reception underground limits its use inside the subway system.