Casale Media launches a supply side platform
The Index Platform will supply advertising inventory to publishers, and launches with a map showing a percentage of the transactions happening in real-time.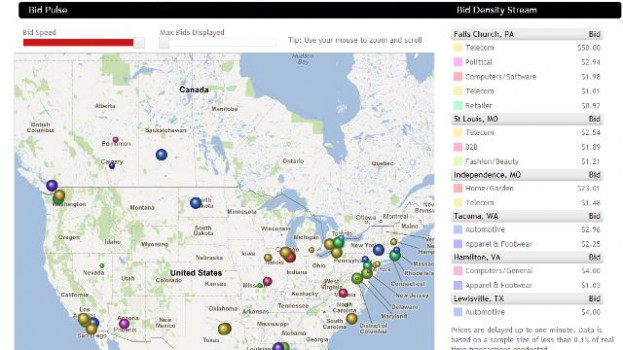 Casale Media is further cementing its position as a supplier of ad inventory with the launch of Index Platform.
The supply side platform (SSP) is a first for the media company. Where much of its ad exchange business is operated out of CasaleX – a premium ad inventory that agencies have access to via Casale's partner demand side platforms such as eyeReturn Marketing's eyeDemand – this new platform services publishers with a hand-picked supply of ad inventory.
In addition to the new platform, Casale has also built a web map (Index Pulse) that aggregates a small portion (less than 1%) of the bids being made in real-time, Andrew Casale, VP marketing, Casale Media, tells MiC.
The reason for the snapshot image of the RTB space is to give what Casale believes is lagging in the area of the market right now – a visual representation that educates buyers and sellers on the rapid movement of bids and a way for publishers to get a better hold on which brand categories are active and what drives pricing.
"One thing we're seeing [with the map] is quite a few brands in the same industry are bidding at the same moment, which suggests that they're leveraging similar data sets to identify users and they're competing for access to the user," he notes.
"There are quite a few players in the space that kind of play on both sides," Casale says of companies that build both SSPs and DSPs to service advertisers and publishers alike. He adds that it can almost be seen as "double-dipping" which is something Casale Media is hesitant to pursue and will most likely remain on the supply side of the RTB spectrum. Also, there are very few companies that offer sell-side services, he says, and that's one of the reasons the media co decided to launch the Index Platform.
To start, Casale Media will be working with Gatehouse Media's private marketplace, Adhance Media as well as its own CasaleX, to service publishers with an inventory of 10,000 brands in 55 different industries across North America.