Fall TV: By the numbers
Who's watching what, and where? A handy infographic guide to the changing landscape of television viewership.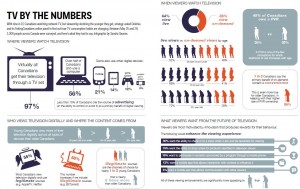 With nine in 10 Canadians watching network TV, but viewership declining the younger they get, MiC asked Delvinia and its AskingCanadians online panel to find out how TV consumption habits are changing. Between May 25 and 29, 1,000 people across Canada were surveyed, and here's what they had to say.
Click here to view the infographic.
Infographic by Sandra Tavares.