Social transparency and ramping up mobile commerce
MPG Media Contacts Collaborative Alliance in Toronto saw presentations from execs at Dynamic Logic and Polar Mobile on changes in social and how to move forward in mobile.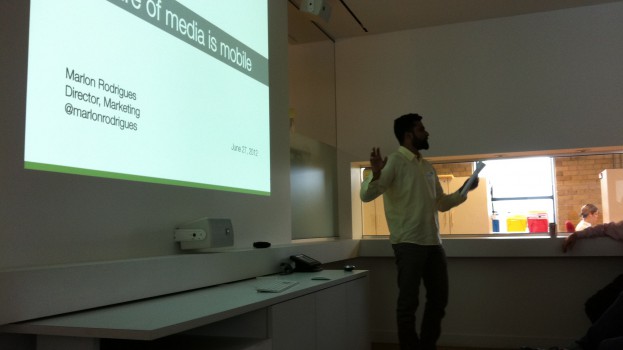 New York-based research firm Dynamic Logic's SVP and head scientist, Ali Rana, crossed the border to meet with a group of media execs in Toronto earlier this week, where he presented insights from more than 70 of the company's FanIndex reports.
The Collaborative Alliance event was held by MPG and Media Contacts, and aims to bring professionals from all areas of media together to "discuss issues, trends, new technologies and new ideas, in a non-exclusive, non-competitive environment."
The FanIndex findings presented by Rana offered guidelines for brands when in the confines of a social space, and in particular, when using Facebook's timeline. He notes that advertisers believe the "value of a fan" exists when they are a potential source of insight (85%), have increased loyalty for a brand (85%), a higher propensity to recommend (80%) and a deeper level of engagement with a brand (75%).
Bigger doesn't necessarily mean better when it comes to social, where the number of fans has little to no impact on whether fans will want to visit a page, he says. Successful fan pages two years ago were thought of as such because they provided a wide variety of information, they were new and innovative (with few brands having entered the space immediately) and stylish in design. Fast-forward to 2012 and Rana shows how what's important to users now is purely brand information and engagement. He adds that successful brands are leaving the design to the back-burner, and instead, investing in ease of use and navigation.
If a brand is looking to drive consideration and engagement, Rana suggests that it make consumers feel more informed about what a brand is doing. Sixty-percent of users want to know its secrets and to feel like they're in the know, he says. Another 38% feel closer to the brand if given a sense of status or rewarded by the brand, and 30% will engage in offline conversation about a brand if they are given fun and engaging content.
While the research firm's scientist spoke of social, Marlon Rodrigues, director of marketing at Polar Mobile, presented his thoughts on how advertisers should be approaching mobile. He used Shopify (an online platform that handles small to medium-sized retailer's online purchases for them) as an example of how brands should be using mobile to drive to purchase rather than create brand awareness.
"In the fall, they were tracking how many mobile transactions their business was seeing," he says. "About 7 to 8% of their sales volume came from mobile."
"This is not an optimized experience. I challenge you to find a great purchasing experience on mobile that is optimized," he adds. "And yet, people are still working to break down these awful experiences to go out and purchase things on mobile. The numbers, six months later, moved to 13 to 14%."
Rodrigues says he believes that basing business only on the premise of in-mobile advertising has a short road and that there is a greater need for brands to create interactions with consumers that lead to more efficient on-the-go purchasing.