WKD's British invasion
The popular pre-mixed vodka is attempting to replicate its UK success on the Canadian party scene this summer.
WKD Vodka markets itself with the slogan, "Have you got a WKD side?" The irreverent, often jocular tone of advertising associated with the drink in the UK catapulted it to the number one ready-to-drink alcohol brand in that country. Now Toronto's Scratch Marketing is charged with replicating that success in Canada.
The WKD campaign will be heavy on OOH, online and social media, because that's where the 19-to-25 target demographic is most active, Scratch partner David Riabov, tells MiC. Media buying for the campaign will be handled by McIlroy & King Communications.
"They're living for the day. They're doing their work, but they're not thinking about their work. They're thinking about getting out," says Riabov of the brand's target audience.
The OOH executions include so-called "bathroom makeovers" at nightclubs coinciding with promotional teams on site to conduct contests and giveaways. The brand will also be visible at Blue Jays and TFC games this summer. The overall emphasis is on creating user-generated content to marry with online promotion.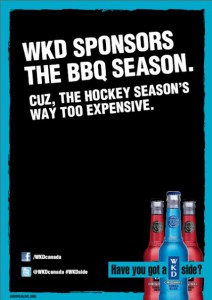 WKD Canada's new Facebook page promotes a Canada Day concert at The Kee to Bala in Muskoka, encouraging readers to win tickets by saying how they would show off their WKD side at the event.
Riabov says the Canadian advertising will be "definitely edgier" than what happens in the UK.
"The Brits have a sharp sense of humour, but Canadians have a slightly different one. If anything we're more direct in comparison," he says.
The campaign will walk a fine line, however. In 2006, some WKD television commercials were pulled in the UK because an advertising regulator deemed them too appealing to underage drinkers. Riabov says messages about responsible drinking will feature prominently in its Canadian advertising.
The WKD Canada campaign will focus mostly on Ontario this summer (with some minimal activities in Quebec), climaxing with a series of events to coincide with frosh week in early September.
WKD is not the first foray into the alcohol category for Scratch, having previously worked with the Jim Beam brand.