Canadian Women's Foundation sheds light on abuse
The advocacy group launches its first national advertising campaign using baby imagery juxtaposed with a troubling statistic.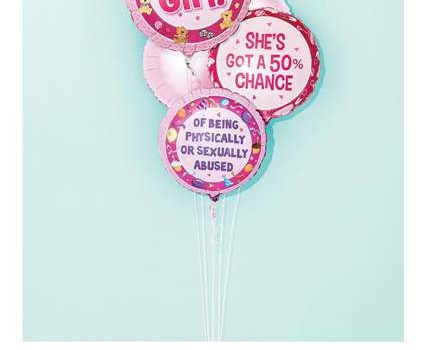 The Canadian Women's Foundation launched its first national advertising campaign on Tuesday with a jarring statistic: half of the baby girls born in Canada today will be physically or sexually abused in their lifetime.
Creative for the campaign was handled by DDB Canada, while media buying was done in-house. Rogers Media donated space on Citytv, in print with Chatelaine, LouLou and Today's Parent, as well as online with its female-oriented digital sites. The foundation negotiated out-of-home space on a pro-bono basis with NewAd, Pattison, OneStop, Clear Channel, Lamar and StreetScene media. A special greeting card insert will also feature in select issues of the August edition of Chatelaine.
The television spot has been offered to all major Canadian networks as a public service announcement, so space is not guaranteed.
"We've noticed in the past few years that people have started to think that the issues we work on aren't really issues in Canada anymore," Sarah Barker, manager of marketing and communications at the Canadian Women's Foundation, tells MiC. "We approached DDB with a desire to bring these issues back to the forefront."
Those issues include the high levels of poverty and abuse suffered by Canadian women.
DDB Canada has a long history with public service campaigns, with clients including Canadian Blood Services and Crimestoppers. The creative for the foundation's campaign was devised by ACDs David Ross and Paul Wallace.
Ross says ideas for the creative began by recognizing that awareness of what the Canadian Women's Foundation does is low among the general population. The intent was to educate rather than shock, he says, adding that many Canadians only associate women in the developing world with suffering from violence and poverty.
Ross and Wallace used imagery related to the birth of a girl, such as a baby shower and greeting cards, to convey the idea that many girls born right now in Canada will encounter these issues as they grow up.
"Girls grow up into women and they are faced with this world, and right now it's an unjust situation," says Ross. "There's disproportionate levels of violence and poverty simply because of their gender."