Astral and Corus toppers bullish on Canadian ad market
Astral's Ian Greenberg and Corus' John Cassaday told analysts to look beyond specialty TV declines in the third quarter to recovering sales in the fourth quarter.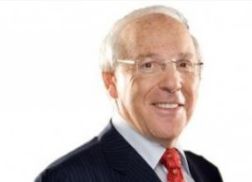 Canadian broadcasters were bullish Thursday about the Canadian TV ad market going forward, even as their current earnings season spotlighted conventional and specialty TV advertising declines.
"It's important to note for this quarter that we should not characterize our declines in specialty advertising as general declines. There were substantial pockets of growth in the quarter," Corus Entertainment CEO John Cassaday told financial analysts after the release of his company's third quarter results.
Cassaday reported flat advertising revenue for key female-skewing specialty channels and falling ad revenue for kids channels.
But going forward, the Corus topper pointed to an ad market rebound, contingent on a return to favourable economic winds at home and abroad.
"So as we stand here today, we continue to be optimistic about the ad recovery. The caveat of course we all have, is that it's been choppy recently and so much of it depends on sustained levels of consumer confidence," Cassaday told analysts.
Ian Greenberg (pictured), president and CEO of rival Astral Media, who was addressing analysts Thursday for likely the last time before a corporate takeover by BCE, also remained bullish about future prospects for the Canadian ad market.
"When we see a comeback in Q4, we can be confident it's strictly cyclical. Whether in radio or TV, there's a tremendous future for growth," Greenberg told analysts when asked if there was anything out of the ordinary to explain Astral Media's revenue slip during the third quarter in a soft ad market, which included a slip in TV subscriber fees due to a free preview period.
"As we look today at bookings for Q4, we are looking for increases in both the radio and TV categories," Greenberg assured analysts as he looked beyond the just-completed third quarter to May 31.
From Playback Daily