Coca-Cola launches pre-Olympic tour
The company is launching a cross-country "Move to the Beat" bus tour today in Vancouver to promote its involvement in the 2012 Olympic Games.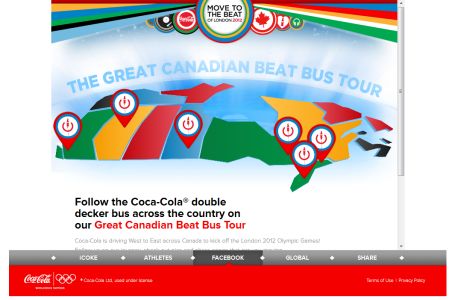 Coca-Cola Canada used Friday's two-week countdown to the London 2012 Olympic Games to kick off its "Move to the Beat" cross-country bus tour which got started in Vancouver.
The tour, which will be housed in an authentic London double-decker bus will feature performances from Canadian musicians, Olympic-themed activities like ping-pong and interactive gaming stations. It is being produced with The Hive and Toronto-based Inventa, and is part of a global initiative around music for the brand, which recently awarded its second prize for Coca-Cola Covers at the MuchMusic Video Awards in Toronto in June.
Vancouver visitors on Friday saw Canadian acts including Hollerado and Dwayne Gretzky. The tour will also stop in Edmonton on July 19, Winnipeg on July 24, Toronto on Aug. 1, Ottawa on Aug. 5 and conclude with a second stop in Toronto on Aug. 12.
The stops in Toronto on Aug. 1 and Ottawa on Aug. 5 will feature clips from the brand's "Beat TV" series being played during the event. The 10-episode original series, which features celebrity and athlete interviews, will be produced by Coca-Cola Worldwide and aired through broadcast partners and marketing plans throughout the Games.
Canadians planning on attending one of the tour stops can request a song they want to hear played at Movetothebeatcanada.ca.