NBCUniversal Canada gets TUFF in Toronto
The entertainment co is a key sponsor of the Toronto Urban Film Festival, which runs concurrent with TIFF this September.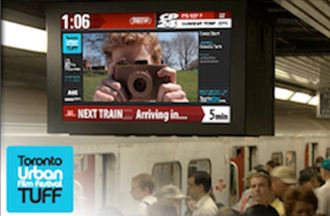 The sixth edition of the Toronto Urban Film Festival (TUFF) has announced NBCUniversal Canada as its principal sponsor, giving the entertainment company signage on over 300 Pattison Onestop screens in 63 different commuter stations across the city.
The 11-day festival takes place in September, during the same time as the Toronto International Film Festival (TIFF), and will see an estimated 70 one-minute silent films airing every 10 minutes.
Sharon Switzer, director, TUFF, tells MiC that during the submission process (which just came to a close), over 400 films from across the globe were entered.
NBCUniversal Canada wanted to be a part of the program as it "fits into their mandate to support the cultural industry in Canada," says Switzer. She added that for the funds, donated to festival co-producer and non-profit curatorial collective Art for Commuters, NBCUniversal Canada will be given logo presence on the screens and a thank-you message to the sponsor each time a film airs.
In addition to the announcement of the sponsorship, Switzer says that TUFF will also see a new spotlight program in partnership with Lomography Canada, where analogue films submitted to the organization (which specializes in film cameras) will air during one of the festival days.
"Everything is digital [these days], even our own format is digital," she says of the interesting contrast of putting strictly film-based shorts on the screens, adding that it will target an increasing audience of people who have found, or continue to hold, interest in the old analogue process.
Other 2012 sponsors that will have some screen presence include the City of Toronto, Sony Creative Software, CFC Worldwide Short Film Festival, Red Giant Software and the Drake Hotel. And according to a TUFF representative, sponsorship opportunities are still available for advertisers wanting to get involved in the festival.