HGTV unveils new website and fall slate
The lifestyle specialty channel has overhauled its website, and introduced its new fall shows, including a new offering from Mike Holmes.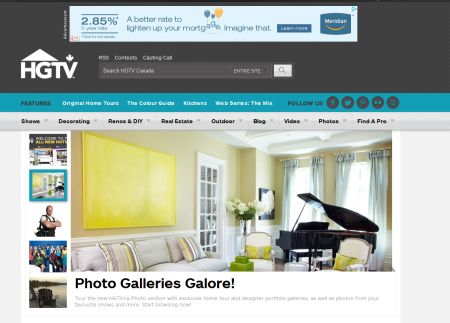 HGTV Canada has completely redesigned its web property, HGTV.ca to offer a wider range of content and an enhanced user experience for its target audience of 25- to 54-year-old viewers.
The new website, designed in-house by Shaw Media's digital team and launched July 23, will include a new Find a Pro section, which allows users to find a home professional in their area for their own home improvement projects, as well as a new photo gallery featuring exclusive images from the network's shows. The redesigned site will also offer a full-screen video streaming experience, improved search capabilities and more opportunities for social media sharing.
"HGTV.ca is a popular online destination for home inspiration and the objective of the redesign was to bring users more of what they already love about the site, simplify usability, and introduce dynamic new sections," Paul Burns, VP of digital, Shaw Media, tells MiC, adding that the brand has focused the redesign on areas where user demand was already high.
Sponsorship opportunities are available throughout the site, he says, including clickable sponsor logos and ribbons in the header, roadblock leaderboard and big box ads, advertorial features, window shades, wallpaper and custom content integration such as sponsored photo galleries.
The specialty channel is promoting the redesigned site with online ads placed on Foodnetwork.ca and through on-air promos running on HGTV, he says.
HGTV Canada has also unveiled its fall season, with new shows from channel stars including Mike Holmes. Holmes Makes it Right features Holmes and his team helping those affected by natural disasters. It premieres on Tuesday Oct. 16 at 9 p.m.
Also making its world broadcast premiere on the channel this fall is Live Here, Buy This, a show that tempts homeowners with properties around the world equal to the value of their current home. The show premieres on Monday, Aug. 27 at 10 p.m.
Four Houses Canada premieres on Thursday, Aug. 30 at 9 p.m. and features four homeowners opening their doors to each other to critique. The homeowner with the highest score wins $1,000 and a spread in Style at Home magazine.
Design Star All Stars premieres on Friday, Aug. 31 at 10 p.m., featuring finalists from past seasons of HGTV Design Star battling for a second chance at the spotlight.
Celebrities at Home starts on Friday, Sept. 7 at 9 p.m., and looks inside the homes of celebs like A.J. McLean of the Backstreet Boys and country singer Naomi Judd.
White Room Challenge premieres on Sept. 28 at 10 p.m. and features designers from across the US competing to create outlandish rooms with strange and unusual items.
Last on the new show round-up for HGTV Canada this fall is House Hazards, which premieres Tuesday, Oct. 16 at 10 p.m. and tests potential domestic hazards like what happens if you put a metal spoon in the microwave, or spill an entire bottle of detergent into a high-powered hot tub.