App-etite: The Toronto Festival of Beer gets some Electric Courage
The annual event hopes to better connect with its target demo by integrating an app into its four days of festivities this weekend.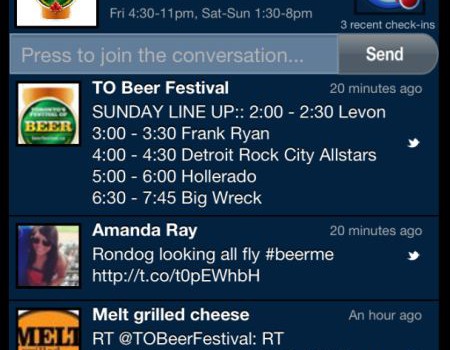 The Toronto Festival of Beer is hoping to better reach its 25- to 35-year-old target demo at this weekend's four-day event by integrating an app from Next Mobile Inc., Sean Beckingham, social media director, Toronto Festival of Beer, tells MiC.
Called Electric Courage, the app was first developed by students in The Next 36 program at the University of Toronto and retained by one of the original investors, Bob Huitema and his agency Next Mobile Inc.
The app, which is available for iPhone, is being used at the Festival of Beer to connect event-goers and allow them to comment on various aspects of the festivities on the app's virtual wall. There is also a contest connected to the app, where visitors who download it need to find the five pre-determined vendors at the festival and scan a code at each of the booths to visit the Toronto Festival of Beer's social media lounge to collect a prize, says Huitema.
"This app is an awesome fit with the Festival of Beer," he says. "It allows people to speak to people at the event in an innovative way. They can speak to them through Facebook and Twitter, but this allows the app to push visitors to certain areas."
The Toronto Festival of Beer has been running a local advertising campaign, with media and creative done in-house, in the TTC, as well as local weeklies like The Grid, says Beckingham. The festival kicks off this evening at Bandshell Park in Toronto.