Olympic blog: Beware the brand police
A Canadian marketer living in London, Steve McEwen kicks off his Olympic coverage for MiC with local talk of the sponsorship debate ahead of the Opening Ceremony on Friday.
Steve McEwen is  a communications manager with Initials Marketing in London. He has worked across events, promotional marketing and sponsorship activation in Canada with brands including Microsoft Xbox, Rogers Communications and Samsung Mobile. He is blogging for MiC throughout the London 2012 Summer Olympic Games.
The Olympic Torch Relay, which has burned through 1,000 cities in the UK and is presented by Coca-Cola, Lloyds TSB, and Samsung, passed my flat this morning and it got me wondering how branding and sponsorship activations will be handled at this year's Games.
Sponsorship regulations have been an issue for many past Olympic Games hosts. In Albertville, France in 1992 Visa and American Express clashed over "official credit card" status with both claiming ownership. Since then the IOC has been trying to protect their top tier sponsors (Visa, Coca-Cola, etc.), and this year many say they went a bit too far. There is the story of the butcher near the sailing venue in Weymouth being told to take down his hand-made sausage rings and a "fantastic 2012″ sign because of sponsorship infringements. At the same time a restaurant was told to remove its "flaming torch breakfast baguette" from the menu. What a pity, both sound innocent enough and quite tasty!
Lord Sebastian Coe, chairman of the London Organising Committee of the Olympic and Paralympic Games (LOCOG), faced criticism earlier this week for a blundered statement he made claiming anyone wearing a Pepsi-branded t-shirt would not be granted entry into any of the Olympic venues (with Coca-Cola being the longest-standing Olympic sponsor). When asked whether those wearing Nike trainers (Adidas is an official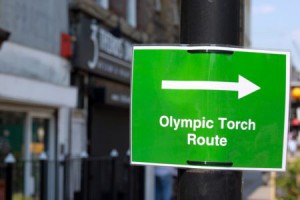 Olympic sponsor) would be allowed in, he responded with "probably." Since then the IOC has stepped in to say that fans would be "free to wear clothing of their choice."
It's not been all sausages and trainers in the world of sponsorship infringement either. The O2, a music and entertainment park in Southeast London, will be dropping its naming rights for the course of the Games due to the "clean venue policy" which forbids branding around and inside Olympic venues. The O2 will be referred to as the North Greenwich Arena and be home to the basketball and gymnastics competitions. Inside all venues, spectators will be focused on the game, and not hit by branding.
An American athlete who tried to skirt this issue is also being affected by the "clean venue policy." Runner Nick Symmonds sold space on his shoulder to promote a hashtag for lifestyle company Hanson Dodge for a reported $11,000 US. He is now being forced to remove the temporary tattoo once inside the Olympic venues, but will wear it while elsewhere in London.
A quick walk around my neighbourhood reveals that my local shopkeeps, kebab shops and off-licenses better take a look at their store windows. LOCOG is rolling out 300 purple-shirted "brand police" to enforce the branding and sponsorship regulations associated with the Games. Equipped with the ever-powerful duct tape, they will have the power to cover any unofficial uses of Olympic or sponsor logos.
Despite all this, there is a certain feeling of excitement in the air, and this is what I look forward to being a part of in the next two weeks. I'll be visiting some of the Olympic venues (tickets to beach volleyball, and ping pong – yippee!), the national Olympic houses (c'mon Heineken Holland House!), and searching for experiential efforts surrounding the 2012 Games.