Mazda Dealers stay on top: Media Monitors, July 16 to 22, 2012
The Mazda Dealer Association made the biggest radio buy in Toronto, with Rogers Wireless taking the #1 spot in Montreal.
The Mazda Dealer Association has made the largest radio purchase for the week of July 16 to 22, holding on to the previous week's #1 spot on the Media Monitors chart.
Rogers Wireless jumped from #16 to #2, with Marineland following at #3, up one spot from the previous week.
New on the list is the Nissan Dealer Association entering at #6, and the Honda Dealer Association at #9.
Sears made a larger than usual purchase, which took it from #20 to #5, as did the Chrysler Jeep Dodge and RAM Dealer Association (from #28 to #10).
In Montreal, Rogers Wireless was #1, up from #7. Sears shifted up a few spots (from #4 to #2), while Brault & Martineau moved to #3, down from the top position.
Noteworthy moves were seen from the Kia Dealer Association and McDonald's, which respectively jumped from #16 to #7 and from #26 to #8.
Toronto
By brand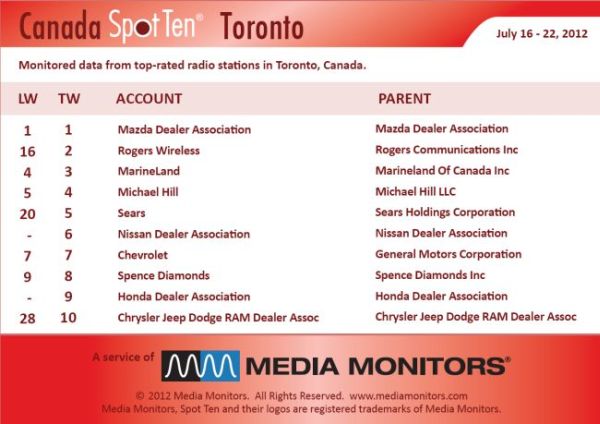 By category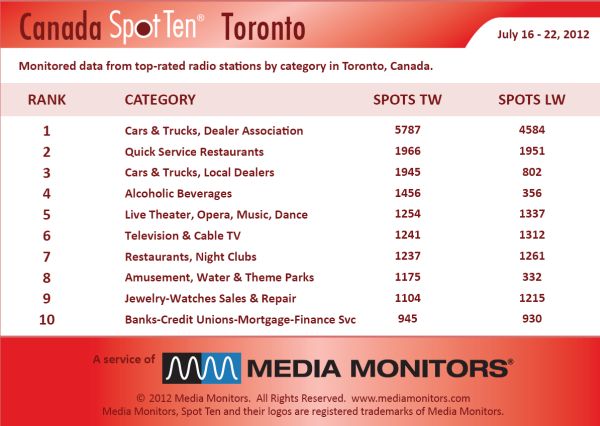 Montreal
By brand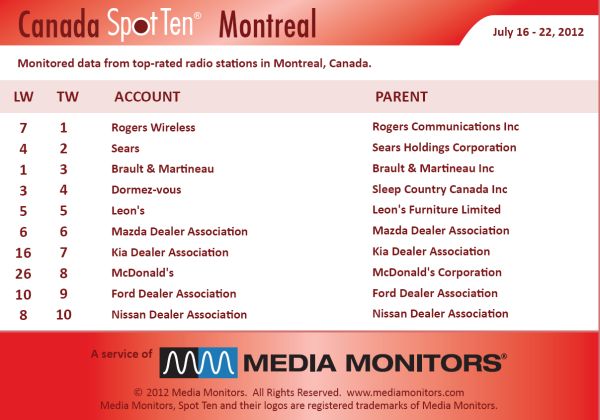 By category