Food Network serves up SugarStars and Meat Men for fall
The Shaw Media channel will be promoting new series SugarStars with a multi-platform campaign.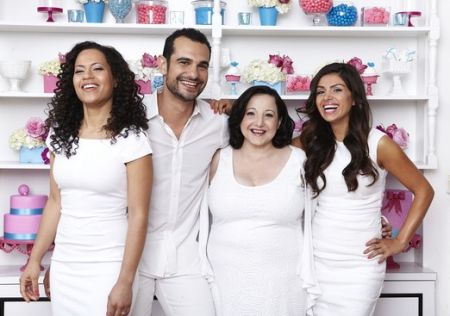 Shaw Media's Food Network has released its fall schedule, and plans to promote new series SugarStars with a multi-platform campaign with media and creative done on-house.
SugarStars, a program which showcases Toronto sweet shop Petite & Sweet owners Elle, Caspar, Yolanda and Antonella is targeted at adults 25 to 54 with a focus on women 25 to 54, premieres Monday August 27 at 10 p.m. and will be promoted with an OOH and print campaign in Toronto. The OOH components will appear in Toronto-area beauty salons and adbars in over 100 grocery stores, with print ads running in publications including Toronto Star, Metro and Tonight, according to a Shaw Media representative.
Also premiering this fall on Food Network is Chef Michael's Kitchen which hits airwaves on Monday August 27 at 6 p.m. The show features Chef Michael Smith breaking down a classic dish and showing viewers how to change it up with a personalized twist.
Chef Wanted with Anne Burrell makes its Canadian premiere on Monday August 27 at 8 p.m., taking four would-be chefs through their paces every week in a grueling job interview for the top spot in a restaurant kitchen.
In Chuck's Week Off, premiering Tuesday August 28 at 7 p.m., Chef Chuck Hughes goes to Mexico in search of culinary adventure.
Cupcake Champions makes its Canadian premiere on Tuesday August 28 at 11 p.m. and pits winners of Cupcake Wars against each other in a tournament to name the Ultimate Cupcake Champ and $50,000.
Home for Dinner with Jamie Deen starts on Wednesday August 29 at 12 p.m. stars Paula Deen's grandson Jamie as he cooks family dinners.
3 Days to Open with Bobby Flay premieres Wednesday August 29 at 9 p.m. and features Chef Bobby Flay lending his expertise to restaurant owners who are opening their locations in three days.
Nigella Lawson is back with Nigella Kitchen, featuring everyday meals and premiering August 30 at 12 p.m.
Restaurant Takeover is a new take on Restaurant Makeover, where two restaurant industry experts are challenged to help a failing restaurant. It premieres on Thursday August 30 at 9 p.m.
Premiering August 31 at 8 p.m. is Food Factory, which gives a glimpse behind production lines to show how food is really made.
Meat Men premieres Friday August 31 at 9 p.m. and features Pat LaFrieda Jr., the 'Magician of Meat' on a mission to bring better meat to the public.
David Rocco's Amalfi Getaway premieres on Saturday Sept. 29 at 9 a.m. and features the host touring the Amalfi coast.
Eating cheaply is the name of the game on 24 in 24 where Jeff Mauro visits US cities spending $24 a day. It premieres on Friday Oct. 12 at 9 p.m.