Porter Airlines soars to the top: Media Monitors, July 23 to 29, 2012
The airline made the largest radio purchase, landing the #1 spot in both Toronto and Montreal.
Porter Airlines has made the biggest radio buy for the week of July 23 to 29, flying up from #80 in Toronto and entering the list in Montreal to take the top spot in both cities, according to the latest Media Monitors report.
In Toronto, the Ontario Power Authority made its debut at #2, while the Mazda Dealer Association shifted down to #3 from the previous week's #1.
Other newcomers were Pepsi, entering at #5 and The Beer Store at #7.
In Montreal, Rogers Wireless was bumped out of the top spot down to #2, and CTV made a considerable leap from #72 to #3.
Notable moves were included Silver Star Mercedes-Benz Montreal (from #24 to #8) and Société des alcools du Quebec (SAQ) which jumped from #43 to #9.
Toronto
By brand
By category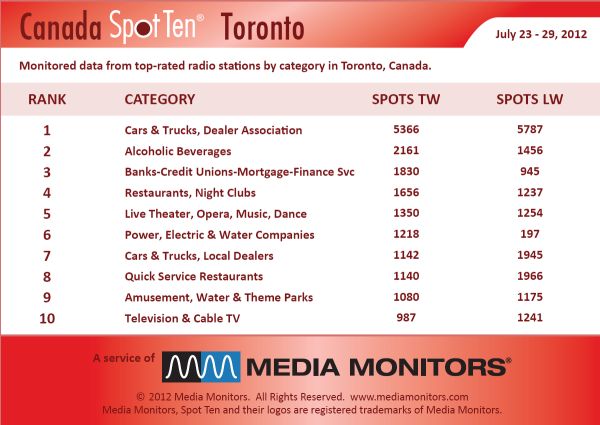 Montreal
By brand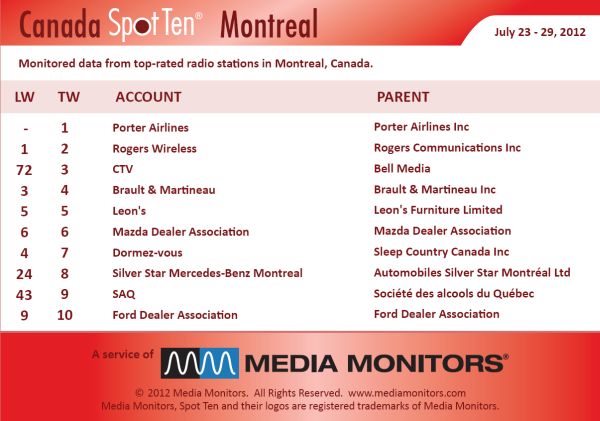 By category