The Verdict: Sharp fastens its digital efforts
The publisher of the men's magazine talks to MiC about its partnership with The Bay that resulted in a spike in online engagement.
What did Sharp magazine learn from its campaign that saw 396 men proclaim to be "Canada's Sharpest Man?" That there's a lot more fashion-forward men in the country than even John McGouran, the publisher of Sharp magazine and Sharp: The Book for Men, considered there to be.
"The quality of the entrants tells me that men's lifestyle is a very, very hot area in Canada right now," he says of the month-long promotion that saw hundreds of men quote on video why they consider themselves to be sharply dressed individuals.
The Bay stores in Toronto, Vancouver, Montreal and Calgary were used as the campaign's backdrop, where booths were set up for people to come in and record their testimonial. After a 10-day period, the booths were removed and those still wanting to enter the contest could video themselves from home and upload to Sharpformen.com. The winner (Jonathan Cavaliere of Toronto) was chosen late last week and will be given a four-page feature in the September issue of the magazine as well as a $5,000 West End Shop designer shopping spree from the Hudson Bay retailer.
"The Bay has gone through a renaissance over the last two years," says McGouran. "For the most part they've been focusing on home furnishings and the women's section, and now they're turning their attention to the men's section."
Sharp magazine, on the other hand, felt it wasn't doing enough on the digital side and subsequently missing out on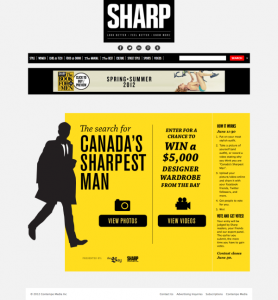 speaking to its online audience. "We felt we needed a better presence to reach out to our target group on other platforms," he says, adding that most of what the magazine had done in the digital and social media space prior to the campaign was use it as "a way to keep up with readers and keep them up-to-date on stuff that is relevant between issues."
"We just felt that our efforts weren't that good and we wanted to enter that side of the media with something that we thought was impactful," says McGouran.
On the Sharp website, where the contest was housed, people could vote and comment on any of the near-400 submissions. McGouran notes that engagement was high, having seen an increase of around 103,000 visitors to its site, 807 comments on the entry videos and over 50,000 votes.
The campaign was a first for the publication and meant to incite an increase in its social presence, which McGouran believes was accomplished as its Facebook following increased by 35%, engagement in the space spiked by 83% and traffic from Facebook to the Sharp website increased by 165%.
"The impact is that we got our brand exposed to an audience outside of our regular magazine readers, through social media," he adds. "We had increased traffic in all areas [and] we expanded our audience, which was our objective to do, out beyond what the print magazine does."
Sharp magazine has a current print circulation of 145,000, according to McGouran, and before the contest, generally saw a unique monthly visitor rate of about 55,000 from readers between the age of 25 and 54.