OPA is tops: Media Monitors, July 30 to August 5, 2012
The Ontario Power Authority has made the biggest radio buy in Toronto, with Rogers Wireless snagging the #1 spot in Montreal.
The Ontario Power Authority has made the largest radio purchase in Toronto for the week of July 30 to August 5, moving up from the previous week's #2 to take the top spot on the latest Media Monitors chart.
MarineLand jumped from #6 to #2, and Pepsi came in at #3 (up from #5).
Sears made a noteworthy purchase and leaped from #43 to #4, as did Sleep Country Canada, from #21 to #9.
Newcomers included Ford Lincoln Mercury, entering at #7 and Virgin Mobile at #8.
In Montreal, Rogers Wireless moved up one spot to #1, with CTV and Brault & Martineau also shifting up one place each, to #2 and #3 respectively.
Steve Martel entered the list at #4 this week. The Gouvernement du Quebec made a considerable jump from #49 to #6, as did Sears (from #36 to #9) and Starlight Children's Foundation (from #52 to #10).
Toronto:
By brand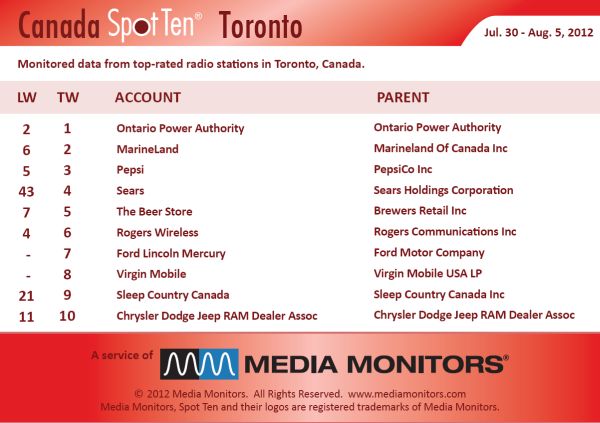 By category
Montreal:
By brand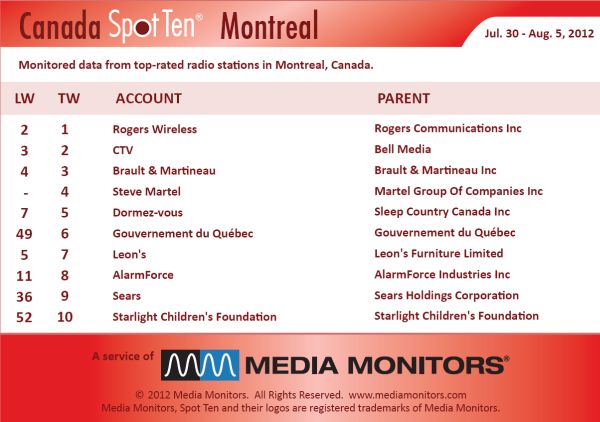 By category