Titan takes over 10 Dundas in Toronto
Previously operated by Clear Channel, the OOH co will provide clients with the ability to dominate interiors in the north-facing property of Yonge-Dundas Square.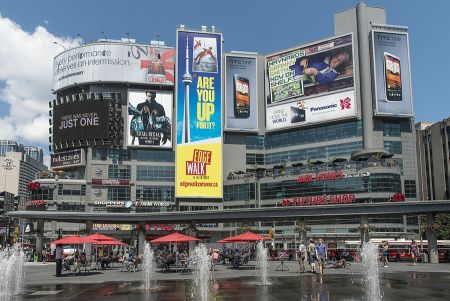 Large-scale OOH media vendor Titan has announced that it is now handling the interior and exterior advertising at 10 Dundas in Toronto.
The property is located on the north side of Yonge-Dundas Square and is host to 23,000 square feet of signage that includes a curved video board and contoured tri-vision. Jorg Cieslok, executive VP and general manager, Titan Canada, tells MiC that the plan is to introduce brand dominations in the interior of the building.
Cieslok says that this will be the first time in years that the interior will be available for advertisers to completely own the space with murals, floor signage, table tops, as well as engagement tools such as NFC-enabled installations and QR code placements. Titan has booked the majority of ad inventory for two clients so far, with the rest on hold, says Cieslok without providing further details. The exterior configuration will remain the same for now, he adds.
Prior to taking over advertising for 10 Dundas from Clear Channel (which was the vendor for the past two years), Titan only operated boards above the Hard Rock Café on the south side of Yonge-Dundas Square. Cieslok says that this is an advantage for advertisers as they will only need to go through one supplier to be able to sync digital boards on either side. For example, during a branded event at the square, the client can promote their message on both the north and south-facing sides for a short period of time, he says.