Bell-Astral will put $80 million into French-language programming
The telco argues that opponent Quebecor will remain the largest holder of Quebec market share despite its planned takeover of Astral Media.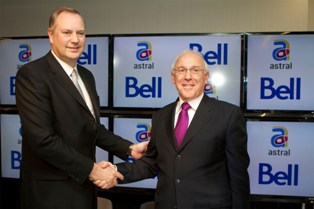 Bell Media says it is investing $80 million toward new French-language programming of national interest as part of the company's impending Astral takeover.
"This new content funding committed by Bell-Astral will ensure much greater viewing choice for Quebec consumers in a media marketplace where true competition and new innovation [are] long overdue," said BCE president and CEO George Cope in a statement Thursday.
"Astral and Bell are both dedicated to growing and competing in the Quebec media marketplace. Now, the Astral team will have the resources and support of Bell to deliver the kind of expanded viewing choices and new ideas that Quebec consumers deserve," said Martine Turcotte, Bell's vice chairwoman for Quebec, in her own statement.
"As a Montreal company itself since 1880, Bell is proud that our Quebec content development will be led by the Astral team right here in our home city," she added.
Thursday's announcement from Bell is positioned as clarification of the company's plans for its pending takeover of Astral Media, in light of recent industry opposition that has arisen against the acquisition.
"Competitors have presented some arguments that simply do not reflect the reality and it was important to explain our intentions," said Bell spokeperson Jean Charles Robillard.
A consortium led by Cogeco Cable, Eastlink and Quebecor last week launched the "Say No to Bell" campaign, urging the CRTC to block the Astral takeover, arguing the sale is leading to a concentration of market power and anti-competitive behaviour in the broadcasting sector.
And Telus Corp. this week joined the fray, backing the consortium's position.
Bell said Thursday that Astral and Bell together will hold approximately 24% of the French-language TV market, and 33.5% of the English TV market. It says this is less than that of Quebecor, which it said holds the largest French-language market share in Quebec media at 30%.
"The Astral-Bell transaction helps finally level the competitive playing field here while at the same time reinvigorating the Quebec media scene with significant new funding and innovation," a statement from Bell said.
Photo: Bell to acquire Astral Media Inc. George Cope, President and CEO of BCE Inc. and Bell Canada Ian Greenberg, President and CEO of Astral Media (CNW Group/Astral Media Inc.)
From Playback Daily