Canadian National Exhibition is tops: Media Monitors
The annual exhibition snagged the #1 spot in Toronto, with Dormez-vous coming in first in Montreal for the Aug. 6 to 12, 2012 report.
Canadian National Exhibition has entered the Media Monitors Top 10 chart with the biggest radio buy in Toronto for the week of Aug. 6 to 12.
Virgin Mobile jumped from #8 into the #2 spot, bumping Marineland down one place to #3.
Noteworthy moves were seen from The Source which moved from #23 to #4, as did Rogers Bundle (from #37 to #10).
New on the list was the Mazda Dealer Association, entering at #6, and Michael Hill at #7.
In Montreal, Dormez-vous took the top spot, up from last week's #5, while Steve Martel shifted up a few places from #4 to #2, and Brault & Martineau held on to its #3 position for the second consecutive week.
The Mazda Dealer Association made its debut at #6, as did Bureau En Gros at #9 and Nissan Dealer Association at #10.
The Source leaped from #35 to #8, with a larger than usual purchase.
Toronto:
By brand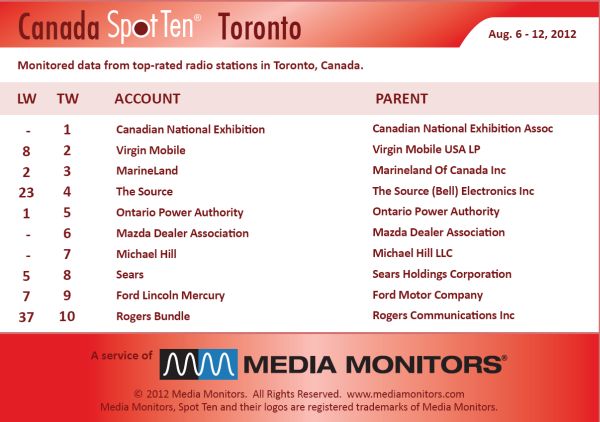 By category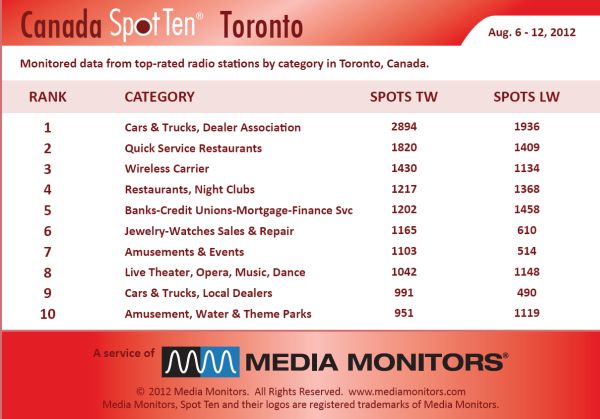 Montreal:
By brand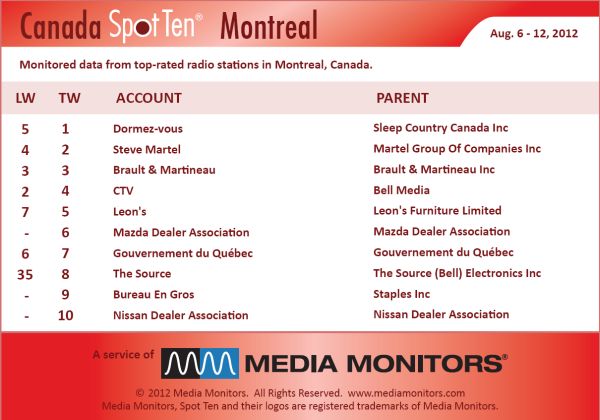 By category